Imagine a place where you can ski without the hassle of cars, where the air is fresh and pure, and where all you can hear is the sound of your ski slicing through powder snow. If this is your ideal ski holiday, why not contemplate a car-free ski resort the next time you hit the slopes?
More and more European ski resorts are implementing bans on cars within the village centre. With charming mountain towns and stunning landscapes, a traffic-free ski resort provides a perfect retreat to relax and immerse oneself in the Alpine ambience and smelly car exhaust fumes aren't exactly welcome.
Everybody knows cars are bad for the environment and this is something everyone should take into account when planning a ski holiday in the Alps. However, you might be surprised to find out that, when sharing a car, the carbon footprint per person is significantly lower than that of planes. But this is certainly not the only reason for self-driving ski holidays to become increasingly popular, as it also gives you absolute freedom to go wherever you want and is significantly cheaper than taking the plane, essentially making your ski holiday more affordable.
Switzerland in particular boasts numerous car-free ski resorts. However, Austria and France also offer a variety of options for winter fans looking to avoid motor vehicles. No matter if the environment, child safety or the simple desire for a noise-free ski holiday is your main concern, there are plenty of reasons for a car-free ski holiday.
We've compiled a list of ski resorts that are at the forefront of the car-free ski holiday trend in the Alps:
Views on a ski lift in Gornergrat, Zermatt
Zermatt
If you're a true snow lover, you've probably already heard of Zermatt ski resort. This utterly charming ski resort, located in the Matter Valley of Valais in Switzerland, allows skiing on altitudes of up to 3,883 meters above sea level and across 360 kilometres of slopes. From there, you'll enjoy the wonderful landscape that surrounds the world-famous Matterhorn mountain.
Skiing in Zermatt is a dream for skiers and snowboarding enthusiasts of all levels. With easy slopes located near the village, beginners can have a great time, while experienced riders can challenge themselves with the more demanding runs located higher up the mountain.
Exclusive hotels, chic boutiques and wooden houses line the streets of this car-free ski resort. But no matter how fancy your car is, you will have to leave it behind in the car park in Täsch, located down in the valley, as Zermatt has been a car-free ski resort since 1961. A shuttle train takes you directly into Matterhorn village, and the resort can be navigated by foot or horse-drawn carriage, as well as on electric taxis or e-busses.
Despite its popularity, Wengen is keen on maintaining its mountain village charme
Wengen (Jungfrau Ski Area)
The ski resort of Wengen is a traditional mountain village at the foot of the triumvirate of Eiger, Mönch and Jungfrau in Switzerland. Together with its smaller sister resort, Mürren, it forms the Jungfrau Ski Area, offering a total of 155km of slopes.
If you're thinking of skiing in the Jungfrau Ski area, you will have to park your car in nearby Lauterbrunnen and take the railway from there on, as both Wengen and Mürren have been car-free ski resorts since 1983 and are only accessible by train or by hiking trails.
Wengen stands out for its traditional swiss ski village atmosphere, as most houses are chalets and vintage wood houses. Despite being a mountain village, Wengen has an excellent tourist infrastructure, with plenty of dining options after a long day on the slopes.
Talking of which, Wengen ski resort offers a stunning amount of slopes for skiing and snowboarding on more than 100 km of pistes. Guests are transported by 23 lifts ranging in elevation between 950 and 2400 metres and offering spectacular panoramic views of the Eiger, Mönch and Jungfrau mountains.
Did you know that Wengen is home to the classic downhill Lauberhorn race, which is held in January of every year since 1930?
See ski deals in Jungfrau Ski Area
Mürren is the smaller counterpart to Wengen. Together, they form Jungfrau ski area.
Mürren (Jungfrau ski area)
Mürren is a traditional mountain village in the Lauterbrunnen Valley, on the other side of Wengen in Switzerland. While it shares many similarities with its counterpart ski resort Wengen, the mountain village is noticeably smaller. The resort is a colourful mix of picturesque wooden chalets, boutiques and small hotels.
You won't find any concrete apartment blocks or giant hotel complexes in Mürren, as the Swiss ski resort strives to be the most visually attractive, lending it a distinct and appealing atmosphere. The fact that Mürren is a car-free resort as well is just the icing on the cake!
Mürren is the highest ski resort in the Bernese Oberland, boasting some incredible terrain across 54 km of runs for skiers and snowboarders of all abilities. 16 well-equipped modern lifts carry skiers up to the 2,970 m peak of the impressive Schilthorn Mountain.
Fun fact: Mürren became quite a landmark for skiing in Switzerland after appearing in a James Bond Movie with Sean Connery in 1969.
See ski deals in Jungfrau Ski Area
Still unknown to many, there's plenty of reasons for a ski holiday in Bettmeralp
Bettmeralp (Aletsch Arena)
Right on the other side of the Jungfrau Mountain, we find Aletsch Arena ski area, a magnificent interconnected ski area in Switzerland with access to the Aletsch Glacier, a UNESCO World Heritage Site, made up by the ski resorts of Bettmeralp, Riederalp and Fieschalp.
Bettmeralp lies at an altitude of 1,907 m and offers impressive views of the Pennine Alps, particularly the Weissmies, Dom, Matterhorn and Weisshorn peaks.
Skiers in Bettmeralp benefit from privileged ski-in-ski-out hotels right on the slopes, as Bettmeralp is a car-free resort, meaning you have to park your car in Betten and take the cable car from there. The summit of Bettmerhorn, above the Aletsch Glacier, is reached by another cable car.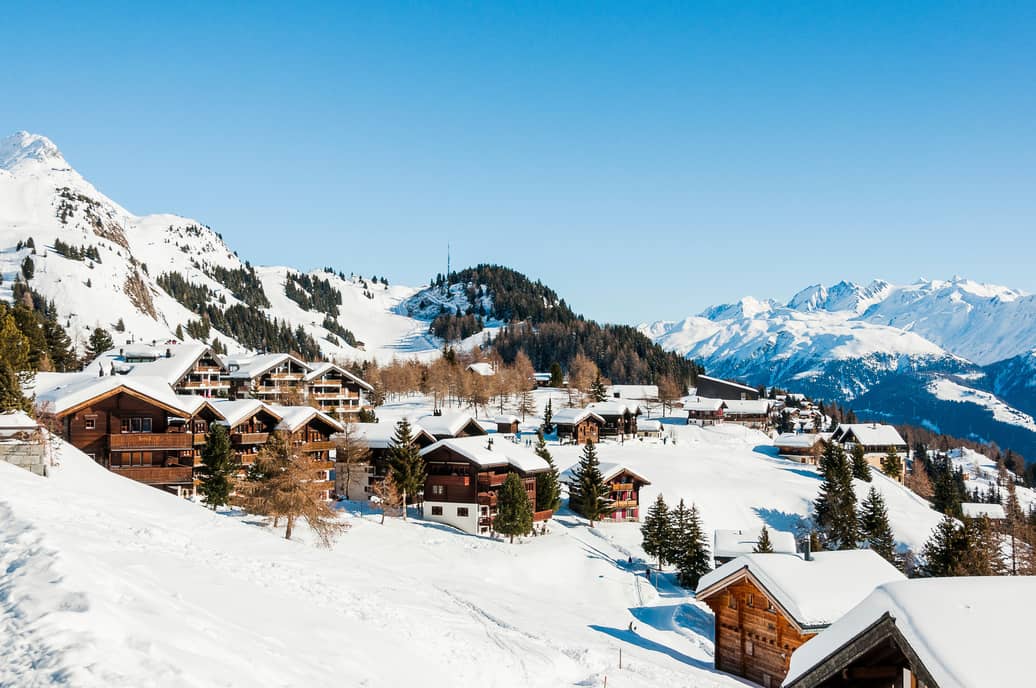 The charming aspect of Riederalp is skiing in Switzerland at its best.
Riederalp (Aletsch Arena)
The other ski resort that forms the Aletsch Arena Ski Area is Riederalp and, you've guessed it, is also a car-free ski resort which is only accessible by cable car.
The vast ski area of Aletsch Arena, that is to say, the ski resorts of Bettmeralp, Riederalp and Fiescheralp, offer a good mixture of easy, intermediate and difficult runs, on 104 km of slopes, linked by 35 ski lifts across the ski area.
The ski area is considered particularly attractive for its fantastic views of the 23 km long Great Aletsch Glacier, the longest ice stream of the Alps and the heart of the UNESCO World Heritage Site, the Swiss Alps' Jungfrau-Aletsch.
There are also several restaurants and bars at the base of the mountain, so you can enjoy an authentic alpine après-ski and take a bite after a long day on the slopes. No matter if you choose to stay in Riederalp or Bettmeralp, skiing in Aletsch Arena will surely make you feel at home instantly.
See ski deals in Aletsch Arena
A ski holiday in Serfaus Fiss Ladis an incredibly peaceful and pleasant experience.
Serfaus Fiss Ladis
Serfaus Fiss Ladis is one of the few car-free ski resorts in Austria. To prevent ski buses and private cars from winding their way through the village on their way to the cable car, Serfaus decided to become car-free in 1970.
Located in South Tyrol, this picturesque village boasts charming chalets and breathtaking mountain views, making it the perfect place to enjoy a winter ski holiday in Austria.
As there are no roads in the village, visitors rely on horse-drawn sleighs, electric shuttle buses, or the underground railroad to travel around. Yes, you got that right! Serfaus Fiss Ladis stands out as Austria's only village with an underground network.
The absence of cars makes a ski holiday in Serfaus Fiss Ladis an incredibly peaceful experience. Stroll through the pedestrian-only village, explore the charming boutiques and cafés, or enjoy sledging with your little ones.
The only transportation you'll see in Avoriaz consists of snowmobiles, piste bashers and horse-drawn carriages.
Avoriaz
Avoriaz was designed with the purpose of becoming an environmental-friendly ski resort thought by skiers for skiers. This amazing ski resort located in the heart of Les Portes du Soleil is an entirely car-free resort with two entry points, both with a car park.
Avoriaz offers a truly unique arrival experience for guests, as a guide will help you get to your hotel, whether you prefer walking, using a horse-drawn taxi-sleigh, or a snow vehicle. What sets it apart from other ski resorts, is the fact of being a complete ski-in-ski-out resort.
Regardless of where you stay, there's no need to take a shuttle or walk. Simply clip in your skis and hit the slopes. Thanks to its altitude of 1800 m above sea level, excellent snow conditions are guaranteed!
A Ski Holiday in Val Thorens combines the best of skiing with the best of atmospheres.
Val Thorens
Val Thorens is also a car-free resort, however, the concept of car-free ski resorts differs slightly from other Alpine countries. In Val Thorens, you can park outside your apartment or hotel, and drop off your luggage, but then must go and park in one of the car parks
The practical housing blocks are constructed with an underground car park. This design allows for easy access and ski-in-ski-out hotels. Leaving your car on the street will result in either a ticket or, much worse, being towed. Furthermore, parking your car indoors will protect it from heavy snowfalls and extreme weather conditions.
As part of Trois Vallées, the world's largest ski resort with 600 kilometres of slopes, Val Thorens is situated in three valleys of Belleville, Méribel, and Courchevel. With almost all runs over 2,000 meters (6,562 ft) above sea level, the resort boasts breathtaking views of more than 1,000 peaks in the French, Italian, and Swiss Alps.
Skiing in Les Arcs is an ideal choice for snow lovers who prefer to leave their car at home
Les Arcs (Paradiski Ski Area)
Welcome to one of the most beautiful natural terraces in Europe! Les Arcs is a pedestrian-friendly ski resort in the picturesque Isère valley in the French Alps. Together with La Plagne and Peisey-Vallandy, makes up one of the largest and most popular ski resorts in Europe, with more than 400 km of skiable slopes: Paradiski Ski Area.
Les Arcs has a rich history and offers a unique atmosphere. In 2020, Les Arcs achieved a significant milestone by becoming the first Savoyard resort to earn the Flocan Vert certification for its unwavering dedication to sustainability in the mountain destination. One of the village's key sustainability practices is its car-free ski area, where covered walkways connect the buildings and provide convenient ski-in-ski-out access to hotels, ensuring visitors' maximum comfort while minimizing the carbon footprint.
Being a car-free ski resort, why not skip the car entirely? Les Arcs is easily accessible by train from Bourg-Saint-Maurice, an ideal choice for snow lovers who prefer to avoid driving in harsh weather conditions. Once you reach Les Arcs, there's plenty of activities to dig in, ranging from skiing and snowboarding on the slopes to discovering the charming mountain villages and exploring the numerous ski trails.
Being close to Geneva also makes it an excellent option for budget-friendly ski holiday that is easy to access by plane.
Belle Plagne is the car-free ski area in La Plagne ski resort
La Plagne (Paradiski Ski Area)
Les Arcs on the one side, La Plagne on the other – together the resorts make up Paradiski, a paradise-like ski destination with more than 400km of slopes, linked since 2003 by the largest cable car in the world: the Vanoise-Express Gondola!
La Plagne is a skier's paradise with 225 km of available slopes, connected by 75 lifts to transport the guests between the elevations of 1,207 and 3,167 m. With more than 70% of the ski resort situated at over 2000m above sea level, extraordinary snow conditions are guaranteed.
La Plagne has seamlessly integrated traditional elements with modern features by creating a car-free, pedestrianized ski area in Belle Plagne, a village inside the ski resort, which is particularly family-friendly. Guests who drive to the resort can park their cars in the underground car parks of the residences and hotels. Additionally, getting to the La Plagne ski area is effortless thanks to the extensive lift system and a free shuttle bus service that operates until midnight.