Many of you have been asking for this type of accommodation, this time we are bringing you the best apartments for a great self-catered ski holiday. We chose these based on their locations, value for money, and quality of reviews.
If you're here, you're probably already on the search of a ski holiday February 2022, if you are thinking of travelling with a group of friends, family or just looking for ski apartments, you've definitely come to the right place. Here we will show you the best apartments for this upcoming 21/22 ski season.
Residence Odalys La Licorne, La Plagne.
On Esquiades.com you'll find a large range of ski apartments located in your favourite ski resorts. Our ski experts have selected the ones they believe are the best for you to have an incredible experience.
To help you decide, here's a list of our best ski apartments sorted by ski destination.
❄ Top Ski Apartments in Andorra
If you are planning a ski holiday with the family and friends in Andorra, here's a list of 4 apartments that we believe are the top, most of which are located practically on the ski slopes.
✔ Caribou apartments are located in the town of Pas de la Casa, in Andorra. The centre is only 650 metres away and 31.9 km from the capital of the country, Andorra la Vella, where you will find one of the most important shopping areas of the Pyrenees.
✔ La Pleta de Soldeu Apartments is located in Soldeu, near the Grandvalira ski resort and a 20-minute drive from Andorra La Vella, famous for its shops.
✔ The El Tarter Park Mountain Resort apartments are located in the town of Tarter. So just 400 meters from the apartments you will find the chairlift, where you can start enjoying the Grandvalira ski area.
La Pleta de Soldeu, Soldeu-Andorra.
Check out Half-Term Ski Deals in Andorra
❄ Top Ski Apartments in Sierra Nevada
✔ The GHM Gorbea Apartments are located just 200 metres away from the Borreguiles cable car and a short walk to both Pradollano and Andalucía squares. It's also really close to pubs and nightclubs, as well as restaurants, supermarkets and shops. The ski and snowboard rental shop is also close to the slopes.
✔ The GHM Plaza Apartments are located in buildings in Plazas de Andalucía or Pradollano, the true heart and nerve centre of the Sierra Nevada resort, surrounded by shops, restaurants, bars, shops, supermarkets, rentals, schools and other services typical of a resort skiing.
Todoserranevada Zona Baja, Sierra Nevada.
Find the Best Ski Deals for Half-Term in Sierra Nevada
❄ Top Ski Apartments in International Destinations

✔ The Val Claret apartment complex is situated in Tignes-Val Claret, in an ideal location: directly on the slopes!
These are different apartments distributed in several buildings, all of them located in the same area. You will know the apartment assigned at the time of your check in, do not worry! all of them are directly on the slopes.
✔ The Résidence Odalys Crystal Blanc residence is located in the village of Vaujany, near shops and about 500 m from the ski lifts. The residence has a heated indoor pool ideal for relaxing after a long day of skiing, steam bath (for a fee), laundry service, for sports enthusiasts the residence offers you a gym so you don't lose your mind even while on vacation In addition to free underground car park.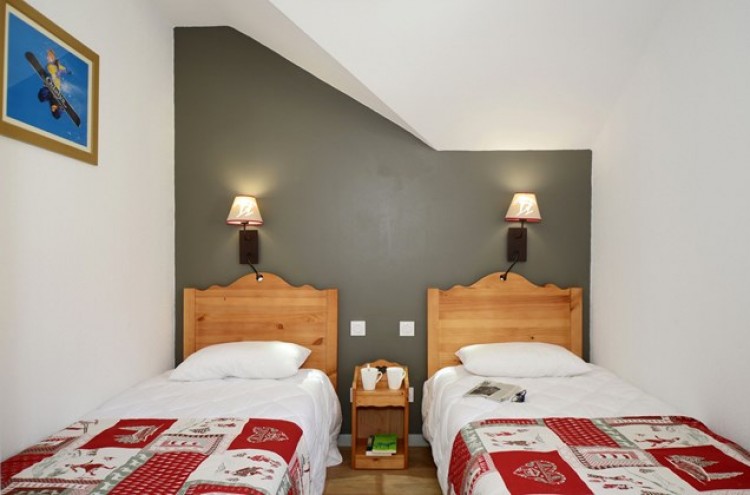 The best Half-Term Ski Deals in the French Alps
❄ Book your Ski holiday with Confidence with Esquiades.com
Our team of ski and snowboard experts don't only look for the best prices of package ski holidays but they also look for the best terms and conditions so you can book with total peace of mind knowing that we've always got you covered.
How can we offer you the best booking terms and conditions?
✅ Free Cancellations ➡ Most of our ski packages include our free cancellation service, so you can book with total peace of mind knowing that you can cancel a few days before your booking date and receive a total refund. No questions asked!
✅ Covid-19 Refund Promise ➡ If you're worried about cancelling at the very last minute due to covid, we'll cover your cancellation fee!
And there 's more! If you can't wait to hit the slopes and are planning an early season skiing holiday, you're probably concerned about the snow conditions so early on in the ski season. You can book one of our ski holidays that includes our Snow Guarantee and this way, if you have to cancel because the ski resort you're visiting is opening later than expected, we've got you covered! This also applies if you're planning a late season ski holiday ;) As you can see, our attention to detail is impeccable and we design all of our ski packages with you in mind!
Read more about Esquiades.com Snow Guarantee