Yes, we know, at the moment the season is being less white than we expected ... However, considering that Easter this year falls in April, there are still many days of skiing . Therefore, from Esquiades.com we want to explain exactly what the situation and forecasts for the coming weeks are , to help you decide the best possible when booking your trip to the snow. We assure you that after reading what we are going to tell you, you will want to ski very soon!
Ski now ? These are the seasons with more snow
Many seasons benefited from the snowfall in November and have continued to produce snow at full throttle. The clearest case of this is that of Sierra Nevada . The Granada resort has no less than 70 km skiable at present and at high levels reaches 150 cm thick. Not bad, right?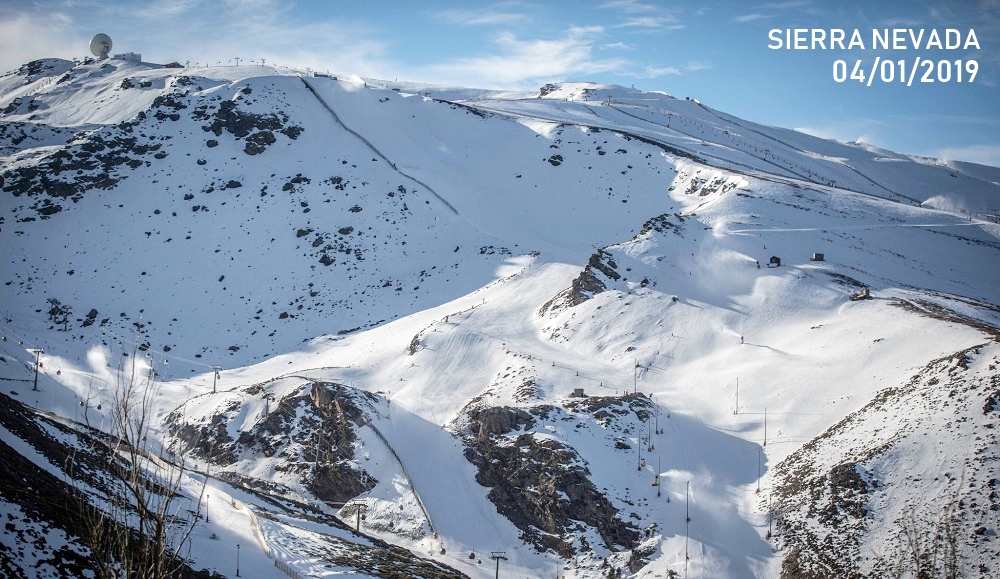 Another example of an optimal situation is Cerler , located in the Benasque Valley. This year the resort can boast of accumulating good thicknesses, up to 90 cm. Currently, one of the best routes of the Aragonese resort is the one that goes from the top of El Gallinero to the base. For its part, the easternmost Catalan, such as Masella and La Molina , located in Girona, also have significant thicknesses (60 cms and 50 cms respectively). The storm in late November gave them enough snow to keep their tracks in good condition.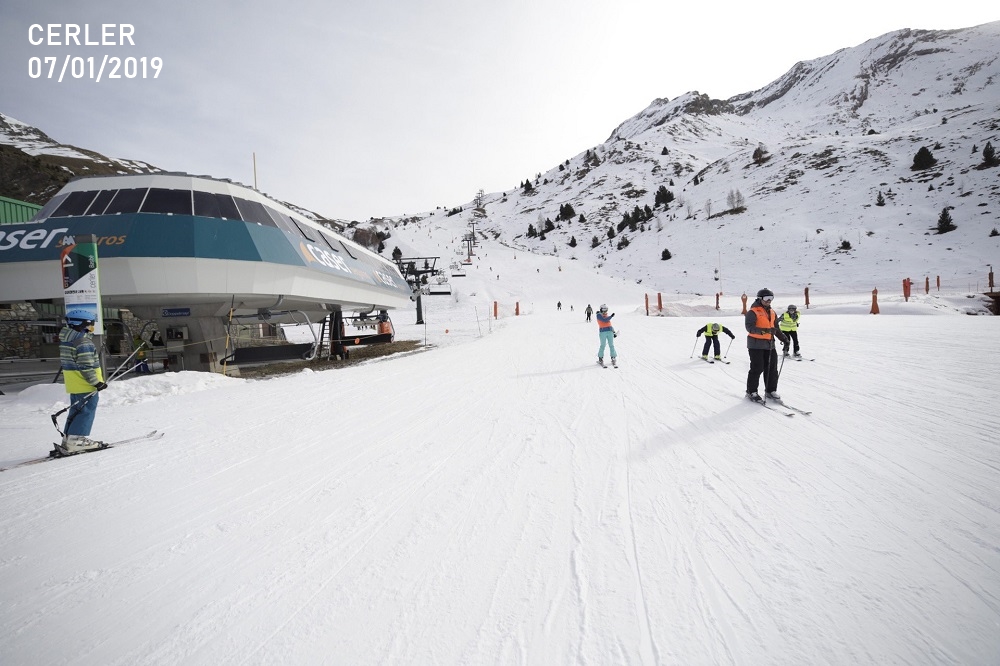 The truth is that, in general, the Catalan Pyrenees is one of the areas least affected by the shortage of snow. Proof of this are also resorts like Baqueira Beret or Boí Taüll . The thicknesses of the latter range between 30 and 90 cm.
Normally, the months with more snow are January and February ... and March!
In the following graph, you can see the snow thicknesses accumulated during the last two years in Grandvalira, Boí Taüll, Formigal and Baqueira Beret. The pattern is repeated in all: in December, the snowfall is minimal, but from January the thing starts to cheer up.
src = "http://www.esquiades.com/blog/wp-content/uploads/2019/01/espesores.png" width = "1626" />
Snow reporters: the seasons in real time
We know that a picture is worth a thousand words, so there goes a small summary of the current state of Masella recorded on January 3. It is part of an initiative of Nevasport and Esquiades.com, called Snow Reporters , which you can follow on our Instagram TV every week.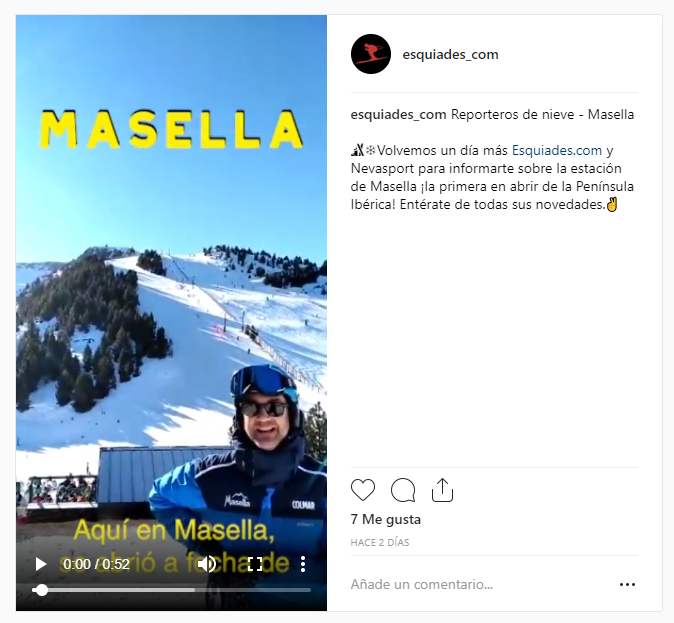 More information? Status of tracks, webcams, skiable kms rankings, thicknesses ... and much more!
On the other hand, we remind you that in Esquiades.com we have a section where you can check the updated status of all ski resorts . And also, on that same page you will find a ranking with the most skiable kilometers and more open slopes. Even in the TOP open tracks ranking , in which you can sort the resorts by the color of their tracks.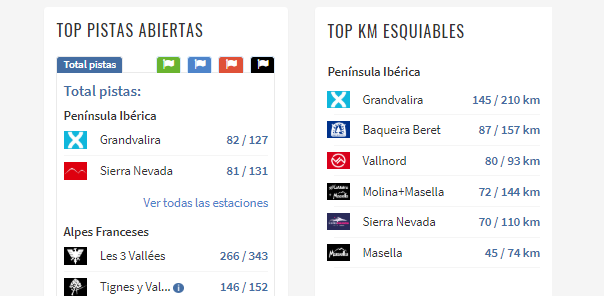 What destination to choose? We have 100% real and recent opinions from skiers
Did you know that on our website you can find very recent opinions about the state of the ski slopes and their catering services, snowparks, ski lifts, wi-fi, etc? Every day we publish new comments from our customers to help everyone at the time of booking your hotel and ski pass pack. Here you have as an example the most recent opinions of Grandvalira , or those of Vallnord Ordino Arcalís , resorts that have also produced a lot of snow to guarantee minimums, and that continue to work intensely to improve.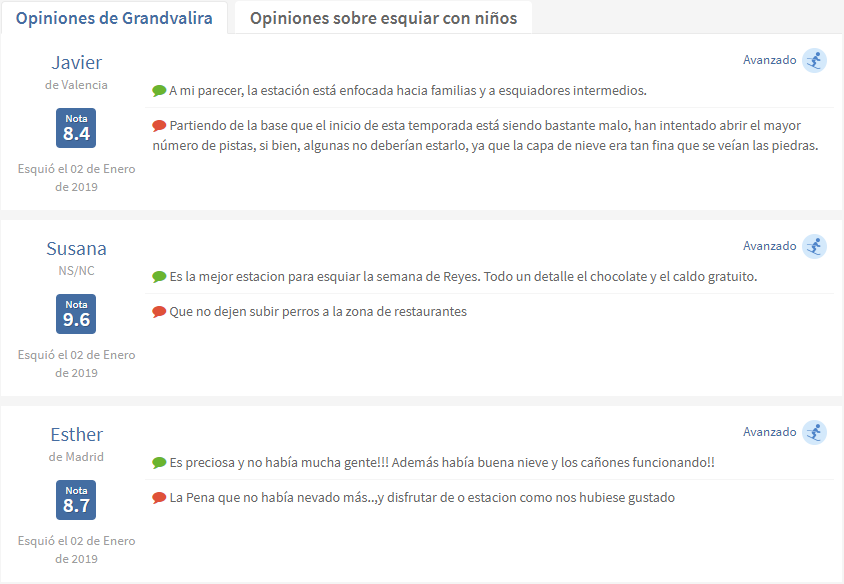 Finally ... temperature drop!
And if we continue with images, we could not miss those of these days in La Molina and Vallnord. The low temperatures have returned and the canyons of the resorts do not stop making piecework snow , very good news for all seasons, since this will facilitate not only the production of more snow, but also its accumulation and especially, the possibility of opening more and more tracks. We leave a couple of tweets explaining this:
src = "http://www.esquiades.com/blog/wp-content/uploads/2019/01/produccion_nieve.png" width = "1248" />
And to top it off ... Snowfall is coming
Yes Yes Yes! It snows again in a few days. For now, we leave you with our meteorological part MeteoEsquiades , a weekly program that we publish every Thursday morning in our networks and YouTube channel . Attentive, because we can already tell you that it will snow from next Wednesday, January 9.
Bonus track: new ski destinations in Esquiades.com
Did you want more variety of ski destinations? Well, today we present the new ski resorts that we have available to book on the web for this season . Most of them are located in the French Pyrenees , a destination that we want you to dare to discover, as it is very worthwhile. It is very accessible by road, has resorts with a lot of charm and we have managed to negotiate for all of you prices of hotel packs more ski pass very economical. Here is the news we have prepared by telling you all the details!