Did you know that you can pay your booking in installments ? You will only have to pay 20% to confirm your booking. We have improved the payment conditions and you will only have to pay 10% to confirm your booking !





See offers season 2021/22




More advantages that you will be interested in knowing (apart from the Partial Payment):

✓ Discounts for advance purchase

It is still early to book your next getaway to the snow (we know). But as the saying goes: prevention is better than cure. We mean that, now you have maximum availability both in dates and in accommodation ... If you wait to book at the last minute this will not be the case. Plus, there are VERY special discounts NOW!
Wow, you're going to book much cheaper than in December;)
What discounts are we talking about? As every year, we have filled our website with ski deals with Early Booking Discounts ; we want to make things easier for you.
This discount can vary from 5% to 20%!
IMPORTANT ▶ These discounts have an expiration date , so be sure to book on time.
As you see, booking your ski deal now can be a very good idea . But if we have not convinced you yet ... keep reading, all you will find is fantastic information and very succulent offers with early booking discounts !
✓ COVID-19 Refund Guarantee : an initiative of Esquiades.com to offer you Free Cancellation in the event that you cannot travel due to Covid-19 .
✓ FREE cancellation : we know that it is difficult to make future decisions, that is why we wanted to help you feel more comfortable and safe by booking your ski holiday. We have added the Free Cancellation option for the vast majority of accommodations available on our website.
✓ Snow Guarantee : with this guarantee you can book in advance and with the assurance that you will not lose your money if the resort postpones its total opening or advances its complete closure (due to lack of snow).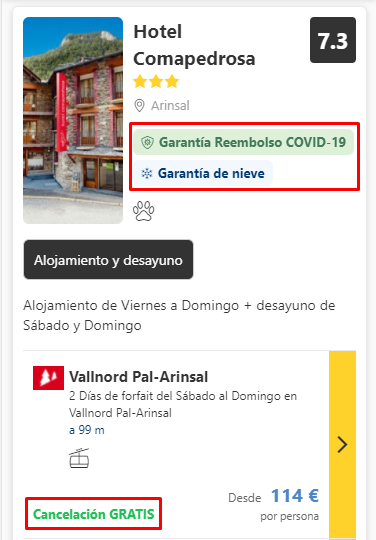 See more offers season 2021/22

If you have any questions or queries, you can call us at 902 09 16 09 where we are available from Monday to Sunday from 9 amto 10:00 p.m. You can also send us your questions through the contact section .
#skiyousoon