You do not have plans for this weekend yet? Do not worry! In case you did not know, they say the improvised plans are those just out better. Therefore, we present the schedule of activities which have submitted La Molina and Port Ainé, two ski resorts of FCE Group this week.
In yet we have Esquiades.com ski deals in the Catalan Pyrenees . So book the one you like, prepare a bag with necessities and enjoy what we like: the snow.

La Molina Ski Resort

Friday, January 22

You'll have to get up early a little originality to enjoy this activity but I can assure you, it will be worth! At 06: 00h in the morning, Vador Lladó and his team program and Rac 105 "Fricandó Matiner" will rise one more season at the ski resort of La Molina to acclimate facilities rhythm and fun until 10: 00h .

From 22 to 24 January

La Molina will host the 3rd edition of SnowPrideBCN, an event specially aimed at the LGBT community in a framework of mountains and nature. The weekend will be marked by all the activities we have prepared both during the day and night. We do not want to reveal too much about it, but we leave some clues: skiing, snow party, many party ;-). All this in a unique and exclusive atmosphere in the Catalan Pyrenees.

From 23 to 24 January

These days will be the 19th edition of the track to track, downhill ski race aimed at younger family skiers. The competition supports the registration of skiers between 8 and 11 years. Forecasts indicate that more than 300 children will participate in this event, which will be the first test scoring for the Catalan League U12 / 10. Will there be a professional future of Alpine skiing among participants?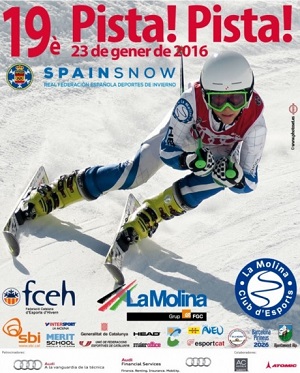 Port Aine Ski Resort

From 23 to 24 January

The second edition of the Championship of Catalonia Mushing reach the ski resort of Port Aine. The best mushers (which are responsible for carrying sleds) and dogs participate in various forms of this Arctic mode. On Saturday at 18: 45h will start the night race and Sunday at 08: 00h the day.