Whether you're a skier or a boarder, both sports require being in good physical condition so as to avoid injuries. So we have decided to share some tips to prepare your physique so you can start your next ski holiday on the right foot. Where are you headed this season? Grandvalira, Vallnord Pal-Arinsal, Baqueira Beret, or you might want to try a less crowded ski resort like Boí Taüll? Are the Italian Dolomites on your wishlist? Or how about the Swiss Alps? Do you prefer skiing in french ski resorts in the Alps or Pyrenees? Wherever it is you want to go to, you'll surely find great ski deals for the best ski resorts in Europe on Esquiades.com!
Find cheap ski deals in the best ski resorts in Europe!
Why do you have to prepare?
Surely you are wondering: is it necessary to exercise to prepare for the new 2021/2022 ski season? You should know that the better and more prepared you are physically, the more you will enjoy yourself as you will improve your health globally and also have much less risk of suffering an injury while skiing.
When skiing or snowboarding you have to make small movements to glide down the slopes. If your muscles are not quite strong you could hurt yourself. You don't want to start your ski days with a sprained ankle, right? Let's do it! Do not panic, these exercises are very simple. Also, at the end of this post we have prepared a short 6-week schedule for you to print. Great!
Fitness Tip: Start with light weights and gradually increase the intensity over time.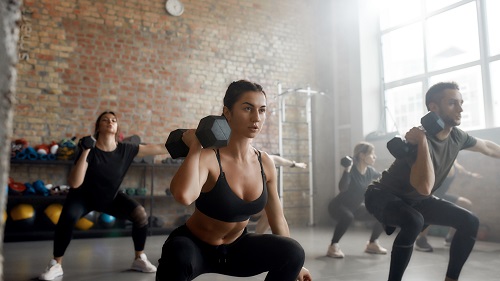 1) Do leg exercises, extremely important for skiing and snowboarding.
As you know, the joints and muscles of the legs are in constant tension while practicing winter sports. However, without trying to discourage you, we're sorry to tell you that jogging and biking twice a week is not enough .
In order to work your quads, hamstrings, abductors, and calves, we recommend performing 3 sets of 12 reps of squats, bench press, and deadlift back raises. It's best to do all of these movements as slowly as possible when flexing for best results.
Paddle tennis, indoor football or tennis are great sports that combine all of the above. You'll be getting "ski fit" without realizing!
2) Avoid injuries by training arms, shoulders and wrists.
This section is especially aimed at snowboard lovers . Boarders know that the beginnings are quite hard and that until you learn to centre the point of gravity and maintain balance , your best friend will be the ground. However, don't be discouraged! In the end, the result is sooooo worth it.
Be careful with falls and with sudden turns of the arm joints. In particular, the wrists are the usual victims of sprains after a bad blow. To avoid this, it is important that you dedicate 5 minutes to perform stretching exercises before each training during your preseason work-out .
You should also pay attention to the shoulder, biceps and triceps areas. You can do many dumbbell combinations to strengthen these muscles. With 3 sets of 12 reps on each arm, it will be enough to get you ready.
3) Cardio and abdominal exercises: the perfect complements
Did you think the routine was over? Well, you are wrong! Abdominal is also a crucial part of skiing and snowboarding. Both the back and the lower torso play a very important role in our day as they are constantly working. Therefore, we must practice exercises that strengthen these muscles frequently.
The barbell leg raises, the genage (or front plank), the rounds of cross crunches, and the reps touching the balls of your feet with your hands are three ideal exercises to get in shape for the upcoming snow season. This strength will help you to protect your spine in falls, to push the sticks in the different turns and to row in some slightly flatter sections without suffering any injury or getting extremely tired.
On the other hand, we have cardio activities such as going for a run or cycling. With all this we will improve our physical background, lung capacity and our ability to endure in cases of effort. Half an hour - 40 minutes three times a week will suffice.
4) Do Proprioceptive exercises.

Have you ever seen a video of people "balancing" on top of half a ball ? This is proprioception! It helps stabilize a joint during static and dynamic functional tasks.

This exercise is ideal for skiing as the knee and ankle joints (especially in snowboarding) work with very forced movements. That is why you must work on doing proprioceptive exercises, in order to reduce injuries much more.
5) The bicycle, your best ally.

Before you start pedaling like crazy we recommend having a good physical background and to achieve this we recommend doing a lot, a lot of aerobic exercise. That said, you should know that the bicycle will significantly help improve our ability to withstand effort and will serve as a basic training for the whole body, great!

And don't worry if the only bike you can get on is static, since just 45 minutes a week with changes of pace will be enough. Of course, if your thing is to go out with the mountain bike 2 hours a week it will be enough.
6) Get Started! Today is a good day to start working on your ski fitness!
Okay, we know it's very easy to say and hard to actually do it ... especially right after the summer, but don't lose hope! Do not do more than what is recommended for your body. Like any process, physical preparation takes time. When you least expect it, you will notice the results!
The best advice we can give you today is to learn to enjoy these little moments and get a taste for these exercises. Put on music, make them accompanied, on the street or at home ... There are hundreds of ways to liven up the pre season! Ours? Put the focus on why we do this: our next weekend in the snow.
Finally, once the big day arrives, start with stretches to avoid muscle overload. Experts advise repeating each stretch between 7 and 10 times and maintaining the tension between 5 and 7 seconds, you should reach the point of pain, but without exceeding it!
7) Tips when you're at the Ski Resort.
When you have finally arrived to the resort and are about to enjoy a much anticipated ski holiday, you should keep in mind that when we're in the mountains, our body undergoes many changes due to the change of air, altitude and physical effort.

Do not be surprised to feel much more tired in the mountains , it is totally normal. To help you and keep you in shape during your ski holiday, we are going to give you several very valuable tips:

- Do some warm-up exercises before starting to go down the slopes like a bullet. Walk a bit and do some push-ups, especially in the legs so you will avoid an effort when you are still cold.


- Drink lots of water. In the mountains the air is very dry and exertion favors dehydration. So, even if you are not thirsty, drink a lot, small drinks and above all, the water is better if it is at room temperature.


- Adapt your diet. Both cold and exertion make you lose large amounts of calories. To be well heal, eat a solid breakfast and do not skip any of the meals. Likewise, we advise you to eat pasta, rice, whole wheat bread, semolina, nuts ... foods with slow sugars.


- Get plenty of rest. Perhaps the easiest tip to take because, who doesn't end up giving up after a day of skiing? Go to bed early and when your body asks you to, the more you rest, the more focused you will be the next day.


- Don't push your limit. If while skiing you are already tired or you see a track that does not transmit good vibrations, let it be, it is better not to force yourself. You don't have to screw up your snow holidays.
Feeling inspired to start your ski work-out routine? Maybe our ski deals for Winter 2021/2022 can help!
Start planning your 2021/2022 ski holiday