Your ski guide to learn to ski
What's harder to learn, ski or snowboard?
Skiing may be easier to learn and it's also believed to be very addictive. The more you ski, the more you'll want to keep going. However, it is harder to master. Snowboarding on the other hand, may be harder at the beginning however, once you get the gist of things, it's much easier to reach an advanced level. Many snowboarders say that "once you board, you don't go back!".
Whether it's skiing or snowboarding, what everyone should know is that the key to be good at this Winter sport is a combination of being up for giving it a go and practice. The more you practice, the more your confidence will grow.
Where is the best place to ski or snowboard for the first time?
You need to find a ski resort that meets your requirements. We don't always get to go on a ski holiday as often as we'd like to, so we want to make sure we are having a great time and maximising our time on the slopes.
Already know where you want to ski?
Check out our incredible ski deals NOW!
Best Ski Resorts in Europe for Beginners
The Best Ski Resorts for beginners in Austria
1. Kühtai
❄ It's the highest ski area in Austria and as a result guarantees excellent snow conditions throughout the entire ski season.
❄ It's much less crowded than other ski resorts and the slopes are pretty wide, which is great for a first-timer on the slopes.
2. Nordkette
❄ To many it's considered the jewel of the Austrian Alps so it should definitely be on your wishlist of top ski resorts in Europe.
❄ It's only 20 minutes from Innsbruck which is where you would be allocated if you book your ski holiday with Esquiades.com. The Ski Pass includes the ski bus so you won't need to drive to ski resort ;)
❄ With your ski pass you can get on the Seegrubenbahn cable-car that will take you to the very top of the mountain from where you have impressive views of the capital of the Alps as well as Karwendel Nature Park.
3. Rangger Köpfl
❄ A very family-oriented ski area that spread across 17 km.
❄ The slopes here range from easy to medium.
❄ There's a 10km toboggan run, where fun is a guarantee!
On Esquiades.com you'll find ski holidays that include accommodation in Innsbruck and the City plus Ski pass that give you access to a total of 13 ski resorts and the ones mentioned above are included! You can also ride the Ski Bus for free so it's really easy to get around. This pass also includes really cool visits in the Old town centre as well as access to the Alpine Zoo and to 3 indoor swimming pools. The city of Innsbruck is a short transfer ride from Innsbruck Airport and our ski package deals include everything you need to make this ski holiday totally hassle-free and super fun!
The Best Ski resorts for Beginners in Switzerland
1. Grindelwald - Wengen
❄ 30% of the Wengen - Grindelwald ski area is suitable for beginners.
❄ It's a fantastic ski destination to learn to ski and take ski lessons, especially adults.
❄ The Bodmi practice ski area has plenty of flat areas as well as a magic carpet, all ideal for beginner adults and children. Once you feel confident enough head up the mountain, there some relatively easy long blue runs in the upper sector of Grindelwald-First.
❄ There are long and easy runs from Kleine Scheidegg, Mettlend and Wengen Dorf.
So, are you thinking of heading to this swiss ski are? Have a look at our ski package holidays in Grindelwald-Wengen and have a ski experience to remember!
2. Davos Klosters
❄ There are two beginner ski areas in Davos: Bolgen and Bünda. The first one is located in Davos Platz near Jakobshorn valley station. As for Bünda, it is located in Davos Dorf, quite near to Davos railway station. Both ski areas are perfect for a first experience on the slopes.
❄ Rinerhorn trainerlift is in the middle of the ski resort. Don't let this hold you back as the terrain is pretty flat and easily accessible.
❄ Parsenn ski area is also a favourite area for beginners. There are practice lifts by the base and easy and wide slopes between Weissfluhjoch and the Gotschnagrat
Have a look at our ski deals for your favourite ski dates to Davos Klosters ski resort and start planning your ski holiday with Esquiades.com
3. Arosa Lenzerheide
❄ The Arosa-Lenzerheide ski resort is one of the largest in Switzerland. The ski resort is spread across 225 km and 2 thirds of the resort are located in Lenzeheide.
❄ Both valleys are connected by a fast and modern ski lift called Urdenbahn.
❄ Most of the runs are qualified as as easy cruising blue runs. If you're looking for scenic skiing, this resort should be a visit.
❄ This resort is also known for offering so much more besides skiing so, as a first-timer you can learn to ski but also take the time to do other snow-related activities as well as sightseeing.
Check all our ski deals to visit Arosa-Lenzerheide and secure your rooms at the best price!


The Best Ski resorts for Beginners in the French Alps
The French Alps is usually on the wishlist of intermediate and advanced skiers. Don't be discouraged by this as there are also some ski resorts that are perfect for giving this sport a go. On Esquiades.com there are many ski-in ski-out apartments, which is very convenient especially when you have to carry your equipment to the slopes.
1. Les 2 Alpes Ski Resort.
❄ It is located in the Isère region and has 17 green, 45 blue, 22 red and 12 black slopes, spread over 225 skiable kilometers.
❄ Beginners will find most of the green slopes in the town of Les 2 Alpes itself, so you don't need to take the large cable cars and certainly won't have to worry about getting lost on the Alpine peaks. You will have everything you need a few meters from your apartment.
Doesn't that sound great? Check our offers for ski-in ski-out apartments in les 2 Alpes which include the ski pass!
2. Méribel Ski Resort
This ski resort is in the Tarentaise Valley, near the town of Moûtiers. It's the central to Les 3 Vallées one of the largest linked ski resorts in the world.
❄ You have all the luxuries and comforts right here, in the heart of the Les 3 Vallées.
❄ There are 150 skiable kilometers spread across 85 km of green and blue runs, 47 km of red runs and 18 km of black runs.
❄ There's also an area called "Ski & Fun" where we can guarantee you'll have a laugh and so much fun!
❄ All the beginner slopes in Méribel are located on the north face of the mountain, so you will ski on second-to-none snow conditions.
Fancy giving this ski area a go? Book one of our ski offers to Méribel and have the time of a lifetime! Once you have chosen your ski resort and accommodation, we will proceed to Step 2 of the booking process, where you can add all the extras you need.
3. Alpe d'Huez
❄ With 41 green slopes and 34 blue ones, it's is an excellent ski destination to learn to ski.
❄ The best ski areas in Alpe d'Huez for beginners are Ler Berger and the lower slopes in DMC, both of which are perfectly accessible from the centre of the resort.
❄ Once you've gained confidence, we recommend you to take the Marmotte Lift (suitable for 6 people) that will take you to La Folie Douce where you'll find red and blue slopes that will take you back down to Les Bergers.
Feeling inspired to start planning your ski holiday? We have some excellent ski-in ski-out self-catered apartemtns in Alpe d'Huez so you can maximise your time on the slopes.
4. La Plagne
❄ La Plagne is a large ski destination where there are 11 adjoining villages and 9 of them have their own beginner ski areas so, it's safe to say that it's one of the best places in the french Alps to go skiing for the first time.
❄ The ski areas we would recommend for you to visit as a first-time skier are La Plagne Bellecote, Belle Plagne and Plagne Centre. The first one is the largest beginner ski area where there are also easy blue slopes you can give a go once you feel confident enough.
❄ La Plagne is known for being a family-friendly ski resort so it ensures that there loads of ski and snowboard schools. Ask about their learn to ski programmes at the ticket office to make sure you maximise your time on the slopes.
On Esquiades.com we have different types of hotels and apartments located close to the slopes and also in other villages if you're looking for something quieter. Check out our ski deals to La Plagne ski resort and experience your fist time on the slopes at an incredible French ski resort.
The Best Ski Resorts for beginners in Andorra
As you know, Andorra is one of the top ski destinations in Europe! It may be a small country but can you believe it has 3 ski resorts? If you'd like to visit this ski destination as a beginner, we recommend you to visit Vallnord Pal-Arinsal.
1. Vallnord Pal-Arinsal Ski Resort:
❄ The Vallnord Pal-Arinsal ski resort has 7 green slopes, 19 blue slopes, 17 red slopes and 4 black slopes, making it the preferred destination for beginners and people looking to improve their skills and technique.
❄ There are two ski areas that connect by a cable-car: Pal and Arinsal. To access the Pal ski area, you can do it from the town of La Massana, from where you can go up with a cable-car (included in your ski pass) and which takes straight to the beginners ski area. On the other hand, if you want you can go up by car and park close to this ski area and ski down the green and blue slopes that are located a few metres from the parking lot.
❄ If you want to ski in Arinsal, you can get there by car and park directly in the Arinsal car park where there's a chairlift that will take you to the top of the slopes (bare in mind that these slopes are for more advanced skiers and snowboarders). Another option is to ski your way from Pal to Arinsal.
❄ If you are going to start skiing from scratch, what you should do is head to Pal. If this isn't your first time on the slopes, then you can improve your technique in Arinsal.
Have a look at our ski deals for Vallnord Pal-Arinsal and have a great time with your friends and family!
2. Grandvalira Ski Resort:
Other ski areas that we would also recommend for beginners are:
❄ Soldeu and El-Tarter, which are located in the Grandvalira Ski Resort, one of the largest in the Pyrenees. If you book your ski holiday on Esquiades.com, your Grandvalira lift pass will give you access to a total of 5 ski areas that spread across over 200 km. This can be quite overwhelming for a beginner. As your priority is to maximise your time on the slopes, head directly to Soldeu or El Tarter ski areas, both of which are connected. We have a great selection of ski hotels and apartments within walking distance to either ski area.
❄ If you book a ski holiday to Soldeu, you will see that most of the hotels are located right across the main access as well as the ski and snowboard rental shops that we work with. If you'd rather stay in a self-catered apartment, you should check out our ski deals in El Tarter. Most of the apartments offer a shuttle service. If you're travelling with your car, El Tarter has a large free car park from where you have direct access to the slopes, rental shops and ski schools. How convenient is that?!
The Best Ski resorts for beginners in the French Pyrenees
France may be known for having some of the best ski destinations in the world for challenging runs however, there are also some good ski resorts for beginners located in the French Pyrenees.
1. Font Romeu Ski Resort.
❄ There are 43 skiable kilometers spread across 15 green runs, 9 blue runs, 8 red runs and 9 black runs. As you can see, there are mainly slopes for first-timers :D
❄ It's easily accessible from the town of Font Romeu where there's the Des Airelles cable car (it is the only one in the town), which will take you to the interactive area of the ski resort where most of the green slopes are located.
Have you never been to Font Romeu ski resort? Well, this is your chance to book one of our ski offers in France.
2. Les Angles
❄ The skiable domain extends over 55 km and 800 meters of unevenness. Culminating at 2,400 meters above sea level, it is one of the largest ski areas in the Eastern Pyrenees with its 45 varied slopes that alternate between pine forest with hooks and large virgin spaces.
❄ It has an area for beginners at the height of the town which is the "secteur Village" where the kids usually go but also, you can go up to the "bigorre" ski area which is 2,100 meters away. If you're travelling with people of a higher ski level, you can spend your day in this area while the rest venture on more complicated slopes.
❄ There's a plateau with several descents and a ski lift so that you can return to the starting point. Here there's also a large restaurant where you can stop and recharge.
❄ Once you feel confident to try something a bit more challenging, from that same plateau you will find the exit to the "Soucarade Pla del Mir" track, a blue track that leads to the village of Les Angles and offers impressive views of the Pyrenees.
Book a short ski break to Les Angles and fall in love with skiing and the French Pyrenees.
If you like to combine skiing with wellness, here is the Angleo Spa where you can spend a relaxing afternoon after a long day of skiing. Especially if you have just started! You will need to soak a bit and you can even treat yourself to a massage ;)
The Best Ski Resorts for Beginners in Spain
If you're looking for a chilled ski holiday and want to avoid huge crowds, the Catalan Pyrenees have an excellent ski resort where you can learn to ski without having to worry about other skiers or snowboarders flying by you.
1. Boí Taüll Ski Resort
❄ This ski resort is for people that are skiing for the first time or are already acquainted with this sport, as there's a wide variety of slopes.
❄ There's a total of 43 runs, divided into 6 green, 3 blue, 20 red and 14 black that make up a total of 45 skiable kilometers.
❄ Like the Port Ainé ski resort, Boí Taüll is also funnel-shaped, so you will always end up in the same place - perfect for those skiers or snowboarders that get lost easily.
❄ If you're learning to ski, there are 3 chair lifts and a ski lift that will take you to several green slopes, a beginner's paradise! In addition, these slopes are located on the northeast side of the resort, which guarantees impeccable snow conditions for a first-timer.
❄ If you have a more advanced level, Boí Taüll has numerous blue and red tracks for you to make some great progress.
Do you see yourself in Boí Taüll on your next ski holiday? Discover Boí Taüll ski resort with our unbeatable ski packages that include the accommodation and ski pass.
Ski and Snowboard Lessons
Do you need ski lessons?
If you've never skied before, you will definitely need skiing lessons. A very common mistake is thinking that you can spend a morning on the beginner slopes and that will be enough for you to be able to explore the ski resort. Another common mistake is to think that one of your friends or parents can teach how to ski or snowboard.
If you or someone you are travelling with has never skied or snowboarded before, you must book lessons as the ski and snowboard schools offer specialised programms with certified instructors.
How many lessons do you need?
This is a difficult question to answer as it all depends on how active or agile you are. Some people pick up the technique quicker than others. If you're a beginner, you can never book too many lessons, so you can spend a couple of hours a day with an instructor and then have the rest of the day to join your friends.
What type of lessons should you book?
What's great about private lessons is that you will be doing one-on-one lessons, which means you'll get to maximise your time with the instructor. You will also have more options when it comes to choosing the schedule as well.
As for the group lessons, these are also a good way to make things fun. You'll get to meet other people with the same struggles and insecurities as you and you can all go for a drink after the lesson! There are usually 2 slots for group lessons, a morning slot and an afternoon slot. All you need to do is head to the ski school first thing in the morning and see which slot is available.
Tips for getting the most out of the ski and snowboard lessons
1. Don't be shy and get to know the ski instructor:
If you're serious about giving this sport a go, let the instructor know what your expectations are before you start the lesson. This information is essential for them so they can plan the lesson better and group the participants in the right groups to maximise the learning experience.
Make sure you communicate with your instructor throughout the lesson. If you're feeling unsure or unsafe at any point, speak up.
2. Arrive early to the ski school:
You need to bear in mind that accessing a ski resort isn't as quick as it seems, so you need to leave your accommodation with plenty of time, especially when it's your first day there and you have to stop at the ski and snowboard rental shop on your way there. Make sure you're leaving your hotel or apartment at least one hour before the start of the lesson.
3. Find out where to go after the lesson:
Once the lesson is over, head to a ski area where you can practice your new skills. Don't get too confident as sometimes beginners feel inspired to try something a little bit more challenging and that is a huge mistake! Focus on improving what you've learnt during the lesson and don't overdo it so you can really benefit from your time in the lesson.
4. Have a good breakfast:
Skiing and snowboarding for the first time is very strenuous so you need to make sure you have a full breakfast. Take some snacks and a drink with you in case your sugar levels get low.
5. Make sure you have the right equipment:
When you go to the rental shop to collect your ski or snowboard equipment, you'll be assisted by professionals so tell them this is your first time on the runs and they'll make sure to give you suitable equipment as well as make sure the fixtures are of your boots are tightened. Rent a helmet while you're there! This will also help you feel safe and as a result, you'll enjoy the lesson to the fullest ;)
6. Take some water and snacks with you:
This sport is quite intense, especially when it's your first time. So you need to keep hydrated at all times and make sure your sugar levels don't drop. Carry a small backpack with water and snacks to keep you going throughout the day.
Ski and Snowboard Equipment
Is it a good idea to borrow ski or snowboard equipment?
Where you might need help is with the equipment rental. Most of you may have already received advice from friends and, what a lot of people say is, don't buy, rent. This is excellent advice as at the beginning, you need to focus on gaining confidence on the pistes and purchasing skis or a snowboard can be quite baffling when you don't really know what you're doing.
When it's your first ski holiday as you need to use equipment that will fit right and perform well. The staff at the rental shops are professionals and will make sure you're wearing the boots to conform to your feet. They will also find the skis or snowboard that adapts to your height and will calibrate it to your weight.
What range or category of ski or snowboard equipment is optimal should a beginner rent?
The names of the ranges vary as each brand or shop can call them differently. However, what you need to know is that there are usually 3 categories of ski and snowboard equipment:
1. Bronze/Economy: This type of equipment is suitable for beginners and is the most affordable option.
2. Silver/Evolution: This equipment is for those who wish to improve their skills and look for skis or a snowboard of better quality so that they can gain speed on the runs.
3. Gold/Performance: This is for advanced skiers and snowboarders. The equipment is considered to be top of the range and thus, the most expensive option. People that go for this option are those who usually have their own equipment but for some reason have not travelled with it or are thinking of purchasing new gear during their ski holiday.
Do you have to wear a helmet to ski?
Children have to wear a helmet to ski or snowboard and depending on the ski resort the age limit may vary from 12 to 16. Regardless of your age, if this is your first time on the runs, we highly recommend to wear a helmet. Falling is a guarantee when you start, so you want to make sure you are wearing protection. You'll also feel safer and as a result will probably perform better on the snow.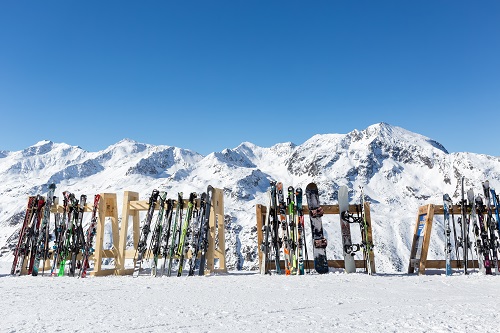 How do you prepare for skiing for the first time?
We've prepared a list of tips for first-time skiers and snowboarders so we can help you enjoy this experience as much as possible:
1. Snow Clothes
There's no such thing as bad weather. It's the clothes that make a skiing experience good or bad. For your first time on a ski holiday, it may be best to borrow the clothes from friends and family. If you want to make sure you are packing the correct essentials, download our checklist to help you pack your ski gear.
If going on a holiday to a ski resort becomes a regular outing of yours, you can then consider investing in your own clothes and equipment. Experience is key, so you first need to find out what it is you really need.
2. Take a Backpack
Ski clothes have loads of pockets and you can find yourself constantly looking for your wallet or whatever you're carrying. So we highly recommend you take a backpack where you can also take a drink and plenty of snacks to keep you going strong!
3. Take a Gopro
You should definitely document your first experience on the snow so you can relive it once you get home. If you're carrying a gopro, you'll get to make some very cool videos and photos of your experience and the surroundings. You might even get to film some really funny moments as well ;)
4. Visit an Indoor Ski Slope
If you're lucky enough to live close to an indoor ski slope, you could head over there and start practicing before hitting the real slopes! This is a great way to know what to expect and know how it feels to be wearing the gear and try out the equipment.
5. Work out before your ski holiday
This may sound silly but you have to be realistic. You're going to spend all day on the slopes and for many consecutive days. So you need to get your act together! Check out our special post on how to get ski fit for the winter season where you'll find excercises, fitness tips and how to warm up in the morning before hitting the slopes.