As commented forecasts , Vallnord opened this bridge Purisima almost 100% of the facilities and the snow has been the main protagonist on the ski slopes and who have reached 75 cm in thickness and 60 cm in Ordino Pal Arinsal.
But if there is any data that can remove all the attention to what you just told, are the 20,000 skiers have come these days to Vallnord. Very positive figure compared to 6,000 skiers visited the ski resorts due to bad weather. Below, we give you more details.
How has this bridge Arinsal Pal December?
More than 12,000 snow sport enthusiasts have visited the ski slopes of Pal and Arinsal have noted the many novelties for this snow season 2015-2016.
One of the highlights was the Arinsal snowpark and the excellent quality of the snow has allowed that valiant try modules and breaks nearby.
Josep Marticella, director of Pal Arinsal says, "this early season encourages us to work with commitment to putting customer focus". For now, the next big date is in less than two weeks. If you are planning to go skiing in Pal Arinsal at Christmas, go ahead and book the offer of skiing you prefer.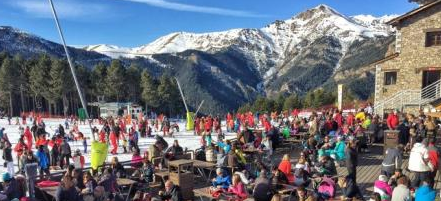 How was the bridge December Ordino Arcalis?
But if there is a ski resort that celebrates in style the start of this season, that's Ordino Arcalis. This year we have achieved the best results in the early season of the past 10 years!
For now, they have a whole season ahead of us to continue to achieve new milestones. Of course, as indicated Xabier Arjona, director of Ordino Arcalis "These figures motivate us to continue to believe in a new way of doing things, 100% customer oriented." Well then, we will go skiing for a weekend I Ordino to check that worth it? ;-P