The excitement and nerves are two main feelings that have breathed this past weekend at the ski resort of Baqueira Beret . Given the success of the first edition of Salomon Quest Challenge last snow season, no wonder that this year has been repeated with even better results.
Wait, do not you know that we are talking about? We start with this.
What is the Salomon Quest Challenge?
The Salomon Quest Challenge is a competition for teams of three people held in various resorts mainly aimed for advanced skiers. There are two distinct categories to attend the event *:

Challenge: To participate in this category the team members must be over 14 years (required one of them is of age). Participate with friends and have a totally different snow day.

Family: This category is especially designed for a day in the snow with the family as one of the members must be between 8 to 14 years and another to be of age.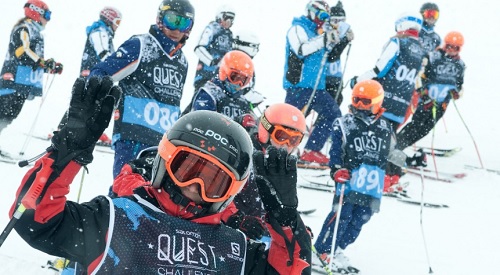 If you are thinking sign, you can do by going on the same day the Village installed on the ski to register on the spot, or if you prefer to have everything ready before you arrive, sign on their website .
* There are also categories of juveniles, children and youth but must be presented as "Club".
What is the Salomon Quest Challenge?
You will find several tests distributed by the ski resort. A giant slalom (down a track along a path of flags) a banked slalom (the same but in a more narrow and uneven track), an skicross (a tour of speed that has curbas, potholes and occasional jump ) and finally a freeride space (freestyle).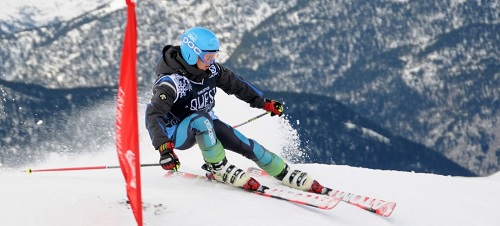 They will doing competitions throughout the day and timing the half-relegation until a winner in each discipline will be who wins the tournament. What sounds good? ;-P
The Salomon Quest Challenge in Baqueira Beret
Now we all know what it is and what this competition, we can talk about how it went this weekend in Baqueira Beret.
The Salomon Quest Challenge opened its competition in one of the popular Spanish resorts most exclusive ski scene. But as we told you in our blog post a few weeks ago, Baqueira Beret is much more than a season of "cool" skiing .
After the success of this event last snow season, this time has been released in Baqueira Beret getting harder and record participation. Up to 550 people divided into 160 groups have not wanted to miss this great event.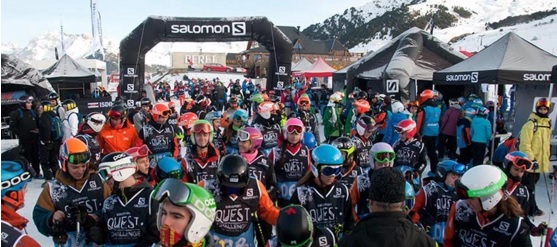 In addition, the 63 participants of the giant slalom, the star test, have contributed to the cause of the TV3 Marathon, an institution which is responsible for raising funds each year to a worthy cause (this year diabetes and obesity). Then, a video summary of this event full of adrenaline and excitement we leave.
Future dates Salomon Quest Challenge in ski resorts
Have not you had heard of this event in Baqueira Beret? Nothing happens! For now, there are 4 confirmed dates you should point your calendar not to miss this great event.
Grandvalira: January 9.
Formigal: January 16.
Cerler: February 6.
Masella-La Molina: February 27.
If you have caught your attention and you want to attend ski booking our ski deals at the best price. Also, although you're not thinking about participating, it is a sight to behold. We are already squaring our schedules!