Everybody knows that this small country in the Pyrenees is covered in snow several months of the year, but... What to do in Andorra for the rest of the year? Stay tuned to learn about one of Andorra's most popular activities: exploring the local trails.
Some might say that not everyone is ready to explore the mountains like a pro, and you're right... That's why we've put together this list of the 7 easiest hiking trails in Andorra, so you can go for a walk in the heart of nature, but at your own pace
Discover the best hotel deals in Andorra
Discover the magical trails to explore with children in Macarulla
If you're looking to visit Andorra with the family, we've found the best hiking routes, where the youngest members of the family can enjoy tailor-made trails to introduce them to hiking and get in touch with nature.
The magical trails we're going to tell you about today are easy, circular and short. The trails aim to motivate children and stimulate their imagination, the most powerful toy children have. Stay tuned for more information about the three different routes in Macarulla.
The pixie forest
If your children are fascinated by gnomes, elves and trolls, this small forest located in La Massana near the village of Pal, gives them a chance to discover the fantastic world of the mythical creatures that live in the forests of Andorra. With a distance of only 4 km, an elevation gain of 125 metres and a duration of about 2 hours, it is the perfect route for families to explore nature together with their children and follow the instructions in the guidebook.
Once you have completed the route, head to the visit Andorra website to download an official diploma certifying the children as "macarulla". This route is ideal for mid-spring to summer and even autumn. You can also complete the hike in winter, but special equipment may be needed, so make sure to check weather conditions at every time.
Where are the mushrooms?
On this route in Canillo, the entire family can discover the most common mushrooms in Andorra. This route starts on the Coll d'Ordino road and covers a distance of 3.7 km, with a gradient of 120 metres. You should complete the hike in about 1 hour and 30 minutes.
The witch Quela's potion
Finally, there is this circuit, located in tEscaldes-Engordany, and which offers a glimpse into the country's legends and beliefs related to witches.
This route introduces children to hiking through a wide range of games and activities, with the theme of the fantastic world of witches, with one of them, the witch Quela, as the main character. The route, despite being the shortest, is the most complicated. It should take you about 2 hours to complete the 3 km of distance and 125 metres of positive difference in altitude.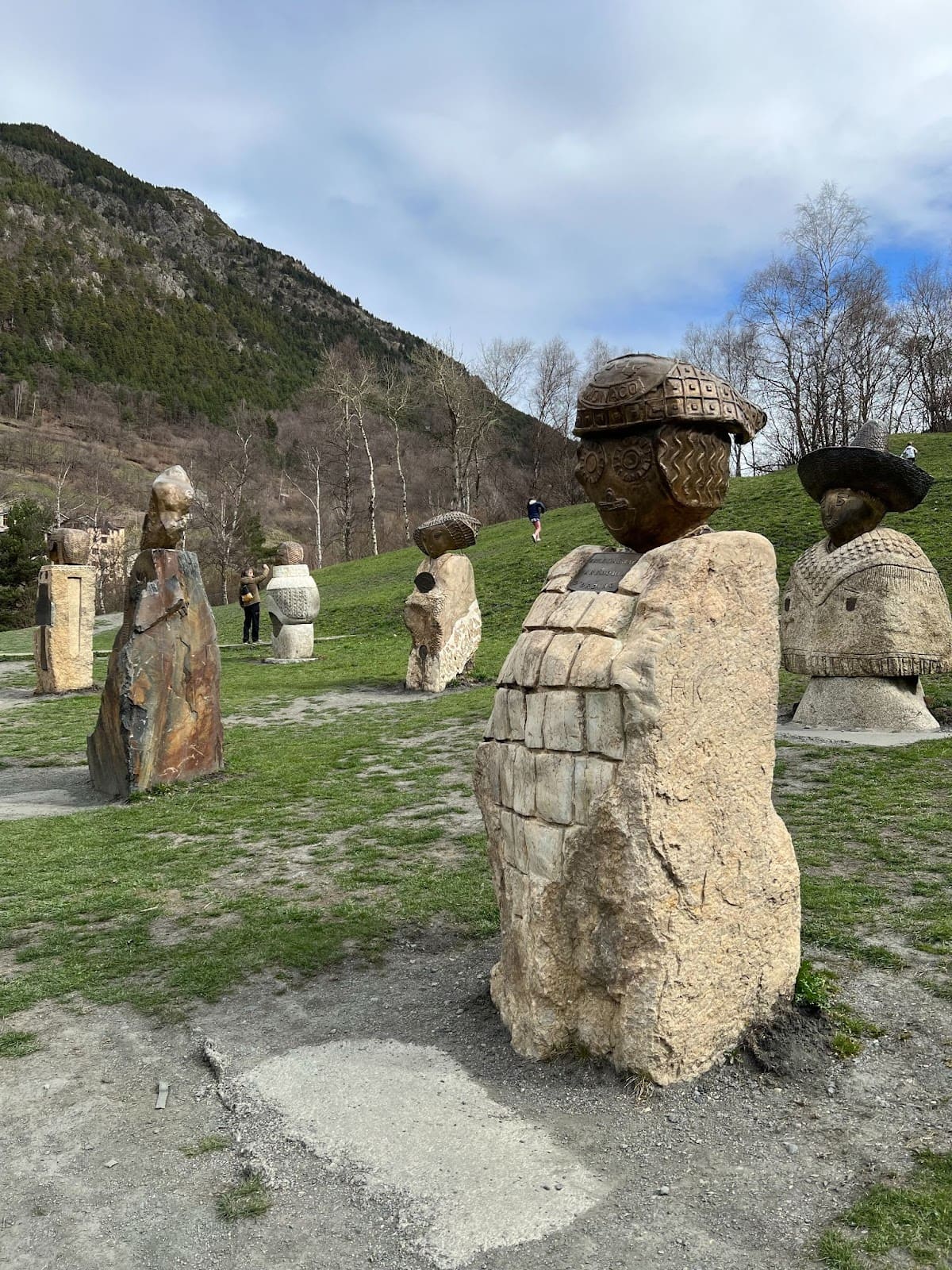 The Iron Route
And you may wonder why the iron route? For those of you who don't know, metallurgy used to be quite important in Andorra until the end of the 19th century. On this trip, you will be able to see some of the places where the iron was obtained, transformed and marketed.
Andorra's Tamarros Where are they hidden?
Before telling you where the Tamarros of Andorra can be found, we are going to explain what they are, as you have probably never heard of them... It is an Andorran legend that tells that these wooden dolls protect the forests and the nature of the forest. There are 7 Tamarros spread all over Andorra and each one lives in a different parish of Andorra: Canillo, Encamp, Ordino, La Massana, Andorra la Vella, Sant Julià and Escaldes-Engordany.
This is a perfect trip to do with children and enjoy with the whole family. You can choose which Tamarros you want to visit and if you are able to find them, they hide very well! But we will tell you where each of them is so that you don't get lost. Before choosing which Tamarro you want to meet, we recommend that you go to any Tourist Office and pick up the Find the Tamarro book. This way you can find out more about these friendly creatures and follow the clues to find them.
Nilo, in Canillo
Nilo is probably the easiest Tamarro to find, it is very close to the spectacular viewpoint of Roc del Quer on the road from Montaup towards Coll d'Ordino. You can use your Google Maps to search for Merendero Tamarro Nilo, and it will directly take you there.
Enko, in Encamp
Enko, located in Encamp, is also quite easy to find, although it is a little more hidden. You'll find it by searching for the Merendero Camí Pleta dels Orris, next to the Cortals d'Encamp road.
Dino, in Ordino
Dino is located near the Tristaina Lakes, surrounded by a natural area with a picnic area next to it. If you feel like walking a little further, you can walk down to the river in less than 10 minutes.
Massa, in La Massana
Massa likes water, and it is not exactly the easyiest to find. If you follow up the road from Arinsal to the end, you will find a small tunnel next to the Information Point of the Valls del Comapedrosa Natural Park. You will have to walk for about 15 minutes! But the effort will be rewarded, you will find Massa next to a beautiful waterfall.
Andy, in Andorra La Vella
Andy likes the height. Take the Comella road and pass by the Merendero de la Comella, continue a few metres and turn off the road towards the Comella Parc housing estate. At the end of the road, you will leave the car and there begins the route to the Bosc Negre viewpoint where Andy is hidden.
Lau, In Sant Julià de Loirà
Lau is very close to Naturalandia. Follow the Rabasa road, and you will come to a fork that leads to the Hotel Coma Bella on the Els Plans road, you will see a picnic area and on the left-hand side of the Rabasa road, there is an unpaved road, the Camí de Coma Bella.
Caldes, in Escaldes-Engordany
Caldes is on the Engolasters road heading towards Lac d'Engolasters. Leave your car in the Fonts car park, where the Mirador de les Fonts route starts. It will take you about 30 minutes each way.
The Forest Rooster Trail
A curious name, isn't it? Well, that's because the trail is marked with red roosters. A very well-signposted route so you won't lose your way at any time! In addition, there are many information panels about the fauna, flora and environment of the valley that will help you to have an entertaining and informed walk. This route is an old path that was used to link Canillo and Soldeu. You can choose which town you want to start from! We will explain if you start from Canillo, which is where you will find an information panel to the right of the cabin with directions and the route.
The walk takes about 3 hours as there are about 7 kilometres in total. Rest assured that it is suitable for all levels! Although there are some narrow paths, there is no significant gradient. But if you go with children, it is better to keep a close eye on them in some of the sections (in case they are naughty and walk with little care, they can give a scare or two).
The beauty of this trail is that it follows the mountainside and the views are very cool. They will make the walk more enjoyable, and you will be able to connect with nature. One of the most beautiful points is the moment when you have to cross a wooden bridge over the river, forming a small waterfall. Then there are some very curious stairs (we dare you to go and send us a photo and tell us what you think of them, so we keep the mystery). Follow the path and you'll come across a Tibetan bridge. It's always fun to walk over hanging bridges, isn't it?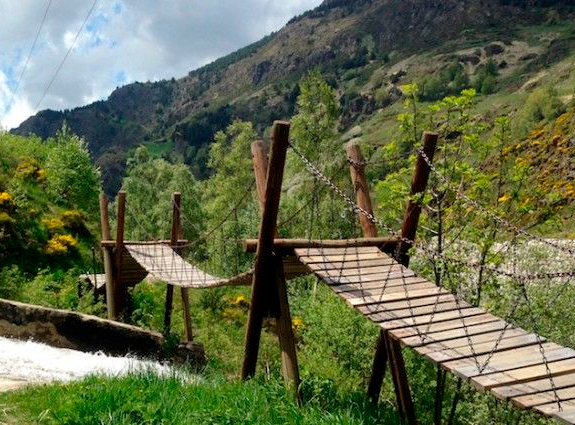 Jardins de Jubarri: A fairytale setting!
In case we still haven't convinced you what route to take when travelling with children, we bring you a fairytale place ideal for families, the Jardins de Jubarri. This place is full of contemporary sculptures. You will find these fun gardens in the small village of Juberri, very close to Naturlandia. They have been open since 2005, but there are no signs on the way, so the best thing to do is to search for "Jardins de Juberri" on Google Maps.
Don't worry, the entrance is free and you can park without any problem. You'll find all kinds of animals, human sculptures, famous buildings from different parts of the world and dinosaurs, among others.
How do you like all these trails? If you have already done some of them, if you think there is one that we haven't mentioned, or if you need more information, don't hesitate to get in touch with us. We will be happy to help!