Grandvalira hosts the 14th edition of Total Fight , a new edition full of novelties for example: the competition includes a female range of snowboarding. Of course, while remaining at the top of the freestyle stage. This year the stage will be in El Tarter Snowpark will be filled with jumps and fun, is one of the most pioneer parks of the Peninsula with a length of 1.3 km.
Another novelty that we can find is that the Total Fight team is designing a fluid and technical slopestyle circuit in accordance with those built worldwide. The riders will perform their best tricks.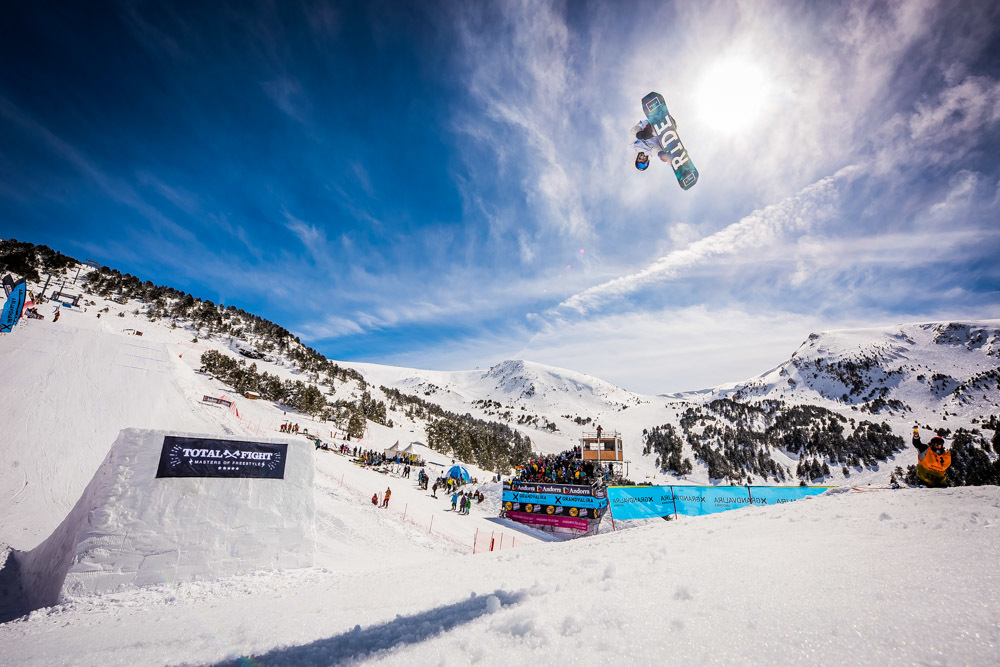 This year, snowboarding is the ÉLITE range, the highest range of the competition with only 7 races around the world (counting the X GAMES of Aspen and Oslo). This test will bring together the best riders in the world, such as the world champion in 2015 Roope Tonteri also Seppe Smits world champion in 2012 or Tyler Nicholson second in the 2014 world ranking.
Next we add the competition plan so you do not miss anything and you can see what is most interesting for you:
➜ Thursday, March 22:

10 am to 11:30 am -------- Freeski training
➜ Friday, March 23:

10:40 ha 12:26 h ---- Freeski Ratings
12:36 to 14:06 h ---- Training snowboard
➜ Saturday, March 24:

10:40 to 11:10 h ---- Freeski Finals
12:40 to 2:48 p.m. ---- Snowboard ratings
17:30 h ----------------- Delivery freeski awards in L'Abarset
18h ----------------------- Monster Party in L'Abarset
➜ Sunday, March 25:

10:40 to 11:35 h ----- Finals snowboard
12:30 h ------------------ Snowboard awards ceremony in snowpark El Tarter