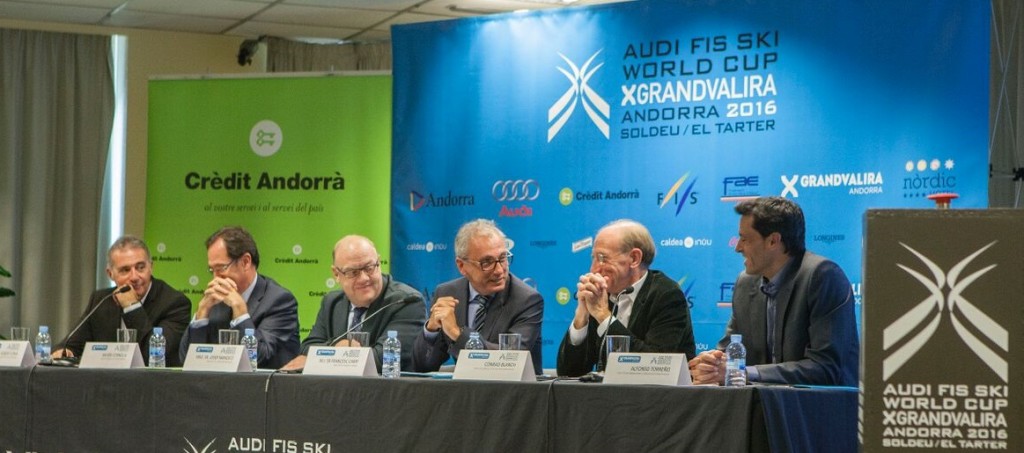 In 2012 the International Ski Federation (FIS) decided that Andorra would be hosting one of the most popular competitions for snow sports fans, the FIS Alpine Ski World Cup. This decision is a great honour for this country, which was able to offer the excellent ski conditions of the tracks of Grandvalira.
Due to the popularity of the competition held a few years ago and the positive reception by the FIS, Andorra has become once more a country of elite competition and will host the FIS Alpine Ski World Cup 2016 in February 27 and 28.
September 24 was the official ceremony, where Conrad Blanch, the managing director of the Ski World Cup, refers to the excellent facilities of the Grandvalira Ski Resort and Andorra. Another aspect mentioned was successful cooperation of the country in the last competition and the many hotels in Andorra.
Nobody wanted to miss this global event
The FIS ensures that Andorra is a country capable of hosting this kind of events. One of the objectives is to try to make a global impact of the competition, via great installations, infrastructure and capacity of the Grandvalira Ski Resort and the Country itself.
Celebrity members such as Albert Coma, president of the Andorran Ski Federation, Francesc Camp, Minister of Tourism and Trade of Andorra, Josep Mandicó, consul of Canillo and President of the Organizing Committee and Xavier Cornella, General Manager of Crèdit Andorra, didn't want to miss this event.
They made an appearance and showed their enthusiasm and desire to grow in the international market of snow. Josep Mandicó didn't forget to mention the dedication and cooperation around the world, from volunteers to technicians. In fact, he says that this competition will be, if possible, better than the last one and that "we always strive for a 10/10".
Esquiades.co.uk has noted this event on our calendar. If you also want to go to watch the best skiers in the world, book your Hotel + Ski Pass Deal in Grandvalira and benefit from all the advantages of skiing with Esquiades.co.uk.