Are you travelling from abroad? If you are flying into Spain, you can add this service to your booking so you can get around easily.
Here in Esquiades.com we are always looking for better way to make things simpler and easier for you which is why we also provide car rental service. If you are flying into Spain, you can collect your car from the airport and make your own way to the ski resort and avoid hanging about and waiting to catch a coach.
How can you add this service to your booking?
Through Esquiades.com you will be able to hire a car and pick it up at different points in Spain. During the booking process all the services we offer will appear (ski hire, insurance and more) and you will have to see the following:

When you click on one of the two transport services we offer, you can choose from 2 types of vehicles. B and C (4 and 5-seater).

There are more than 60 different points where you can pick up the vehicle.
What type of cars are available?
Group B (

4-seater)

: Seat Ibiza, Fiat Punto, Opel Corsa or similar.
Group C (5-seater): Seat León, Fiat Tipo, Renault Megane or similar.
If you prefer a specific model or wish to rent a bigger car, all you need to do is get in contact with our customer service and they will help you with whatever you need.
What does the service include?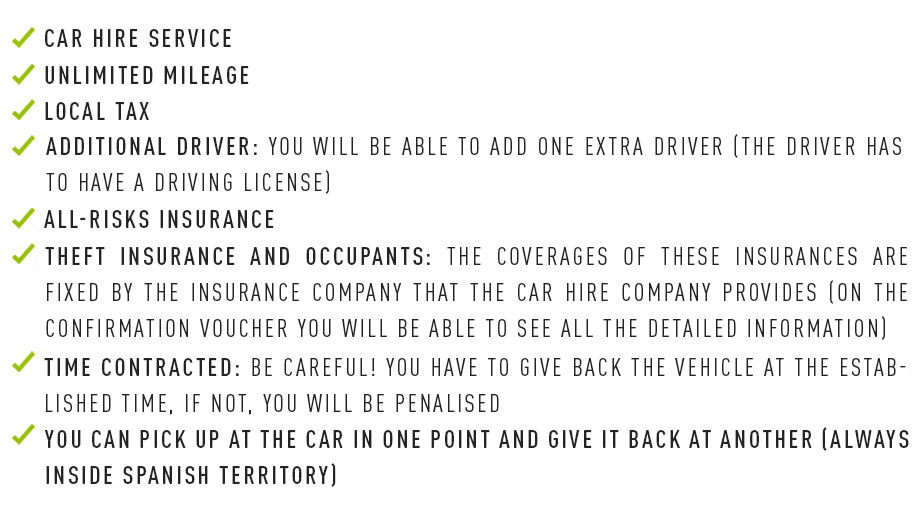 What isn't included in the service?
If you are interested in hiring a car for your Ski Holiday you only have to click on the service. There, if you click on the 'More Info' tab you will also be able to see all the information regarding this service. Coverages, insurance information, pick-up points and other information.