Here's our second interview of our latest section called Our Expert's Opinion ! A section that aims to bring you closer to the best ski deals and brings you very practical advice on specific resorts from the hand of our expert ski deals and destinations.
Today it's Xavi's turn, our real expert in everything related to Andorra. As soon as he joined the Esquiades.com Team, he's been totally committed to who we are and what we offer. He even moved to live in Andorra so he could get to know the ski resorts better and our service providers as well. He's also a member of our ski pass delivery team!
Here he is: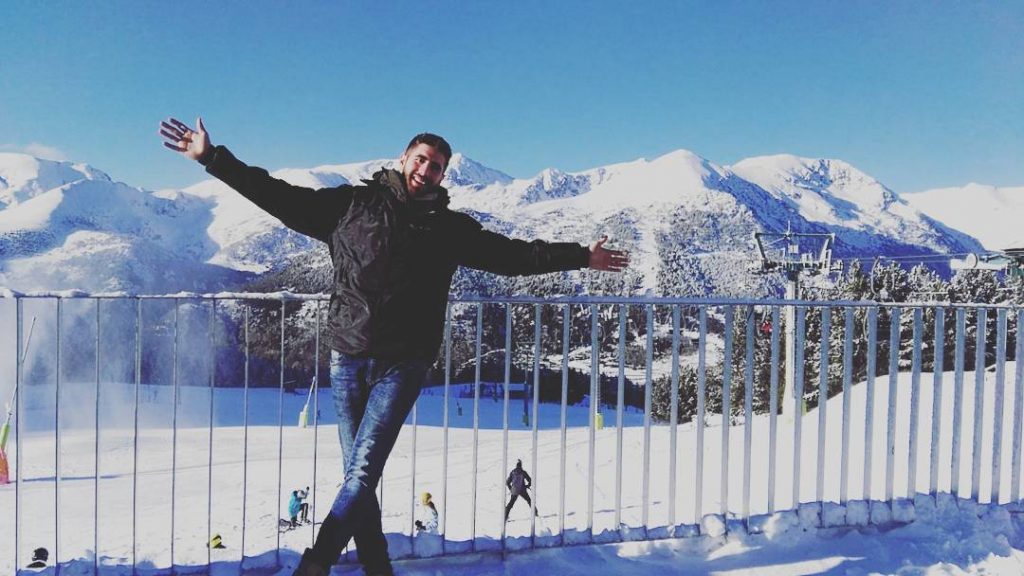 Xavi is here today to inform you about all of the benefits from booking your December ski holiday to Andorra with Esquiades.com. These ski deals in Andorra are among the best in terms of quality / price ratio!
Hi Xavi! Before we start… Why should we ski in Andorra?
Hi! What a pleasure to be in this section, I have been looking forward to this moment! I peronsally think that anyone who loves skiing and snowboarding should definitely visit Andorra at some point.
Did you know they call it the country of the Pyrenees?
There's also loads to do and a great variety of activities. It's impossible for you to get bored here!
When I ski in Andorra, I feel like I'm exactly where I'm supposed to be (and the prices are very good, so my wallet is always happy).
What are the best ski hotels in Andorra?
Ufff What a complicated question! In Andorra there are different types of accommodations to suit different budgets and preferences.
But hey, I'm going to tell you what I believe are the best hotels for skiing in Andorra (according to my expert opinion).
I am a very, very keen skier so, the TOP hotel for skiing enthusiasts is the Hotel Pic Maia 2 * in Pas de la Casa. You can literally ski from the hotel.
It is one of the best sellers on Esquiades.com!
In fact, this season they are renovating the bar, kitchen and some bedrooms (check out the pics below).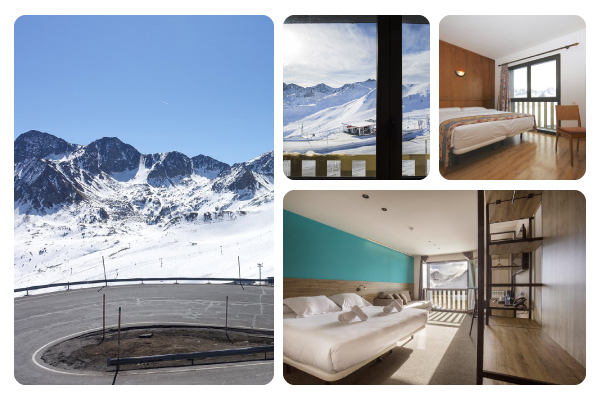 I warn you, this hotel is at an altitude of 2,408 m, so sometimes, after a snowfall, it is difficult to have access to it. If it snows so much that you can't go up, there is a rectrack at 8 pm. that clears the entire road. So you can drive to the hotel after that time.
It's a really fun (and different) experience :)
On the other hand, the second best accommodation in Andorra is the Hotel Piolets Soldeu Center 4 * in Soldeu, just in front of the Soldeu Platform , newest addition back in November 2019.
This 4-star hotel is 20 minutes from Andorra la Vella!
This hotel is very close to the slopes. The hotel car park is next to the Soldeu cable-car and there are ski lockers.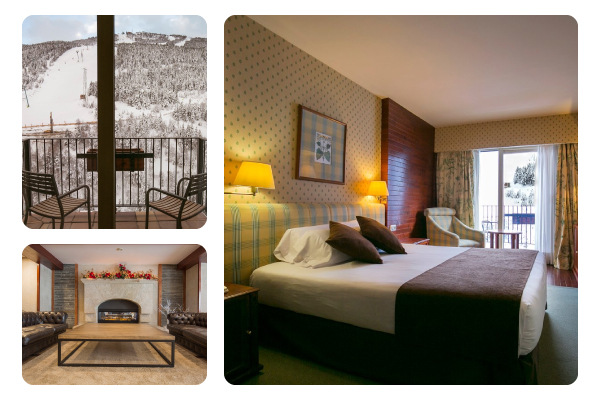 You can ski all day way down to the car park where you can store your skis in the lockers.
TIP -> Not everyone knows this! Your Ski Pass to the Grandvalira Ski Resort includes free parking in the Avet car park that is located on the soldeu platform. (It is only free as long as you have a ski pass for the days you're parking there)
My perfect plan when I go to this accommodation is: Ski + shower or spa + dinner at the Pizzeria L'Avet + a few drinks at the Pub Aspen (fantastic atmosphere).
This pizzeria does not accept bookings, so I recommend that you go early to get a seat.
Do you recommend these ski hotels for a specific type of skier?
Well... this is what I would say:
If you are a keen skier -> Both the Hotel Pic Maia and the Hotel Piolets Soldeu Center are perfect for you

If this is a family ski holiday -> I recommend the Hotel Pic Maia if you are all keen skiers and the Hotel Piolets Soldeu Center if there are different levels in the family (iSoldeu has a great ski school).

If you are going on a ski holiday with your couple -> The Hotel Piolets Soldeu Center is quite romantic (the views are incredible and the SPA is alsso very romantic).

If you're going on a ski holiday with friends (and you're looking for the party scene) -> The Hotel Piolets Soldeu Centre is, without a doubt, the best option. The Aspen Pub is a great place for having a couple of drinks with your friends.
Thank you very much, Xavi! We can't wait to ski in Andorra
Thank you! I hope I have helped you with this small selection of the 2 best ski hotels in Andorra.
And if my opinion has finally helped you decide to ski in Andorra this year, please let me know! You can send us a message via our social networks or comment on this post: