We know how much you like to try something new, which is why we are always searching for new ski destinations we can work with so we can offer them on our site.
If you've subscribed to our newsletter, you'll know that last season we added 6 new ski resorts.
If you keep reading, you'll find which ones are already available to you can book your 2020/2021 Ski Holiday with Esquiades.com
And, there are more ski destinations still to come! What we'll do is update this exact page and add new ski resorts within the next few weeks.
Les 4 Vallées (Verbier, Nendaz, Veysonnaz and Thyon)
Our offers for this ski destination do not include the ski pass but we guarantee that on our site you'll find hotels and apartments at an unbeatable price!
If Switzerland is on your list for this 2020/2021 Ski Season, then you must visit Les 4 Vallées. It's the largest ski resort in the country and third in Europe.
If you visit this resort, you'll be able to ski in Verbier, Nendaz, Thyon, Veysonnaz, Bruson and La Tzoumaz.
The resort spreads across a total of 400 km with runs to suit all levels. Both skiers and boarder will have a blast here. Find out more here!
Now, you may think you've already seen this resort on our website and, you're totally right! In the past we offer ski holidays to ski in both Tignes and Val d'Isère however, we only offered chalets and hotels in Tignes.
So, what we've done is also offer this package ski holiday with accommodation in Val d'Isère, which is ideal for a family ski holiday.
This ski resort is located in the French Alps from where you can the Ubaye Valley.
It is located at 1,600 m altitude and has managed to integrate the village of Molanès (Pra Loup 1500) at 1,500 m altitude into its domain. Also, together with the Val d'Allos-La Foux, it's the largest ski area in the southern Alps. This union is called as Espace Lumière.
If you book your ski holiday to Pra Loup with Esquiades.com, your ski pass will give you access to Espace Lumière (if you access the resort from La Foux), that's a total of 180 km!
La Rosière (Espace San Bernardo)
This French ski resort is the only one linked to another Italian resort (La Thuile), both of which form the famous Espace San Bernardo, with 160 km of slopes. Skiers who have already enjoyed a well-deserved vacation in this ski destination highlight the great scenic beauty.
If you're looking to book a ski holiday to a snow-sure resort, this is definitely one of them! It offers a large amount of snow from December to May, thanks to its proximity to the Neck of the Petit Saint-Bernard; which gives you a supplementary benefit: abundant snowflakes.
Zermatt
Our offers for this ski destination do not include the ski pass but we guarantee that on our site you'll find hotels and apartments at an unbeatable price!
Finally!! Zermatt is the tallest ski resort in Europe and is in the Swiss Alps. There's a total of 360 km you can ski on, 200 km are in Switzerland and the other 160km are in Italy.
From this resort you'll have a view of Mount Matterhorn. Easily recognizable for its pyramidal shape that stands out from the 38 peaks of more than 4,000 m in the area.
Grindelwald
This beautiful ski area is located at the base of the Jungfrau Ski Resort, and shares the main area of the slopes with Wengen. Its location in a valley offers privileged views towards the Eiger, Mönch and Jungfrau peaks.
The extension of the resort makes it ideal for both intermediate and expert skiers: it has 42% blue slopes, 44% red slopes and 14% black slopes.
On Esquiades.com you can book your accommodation and Ski Pass and you can also add extras ;)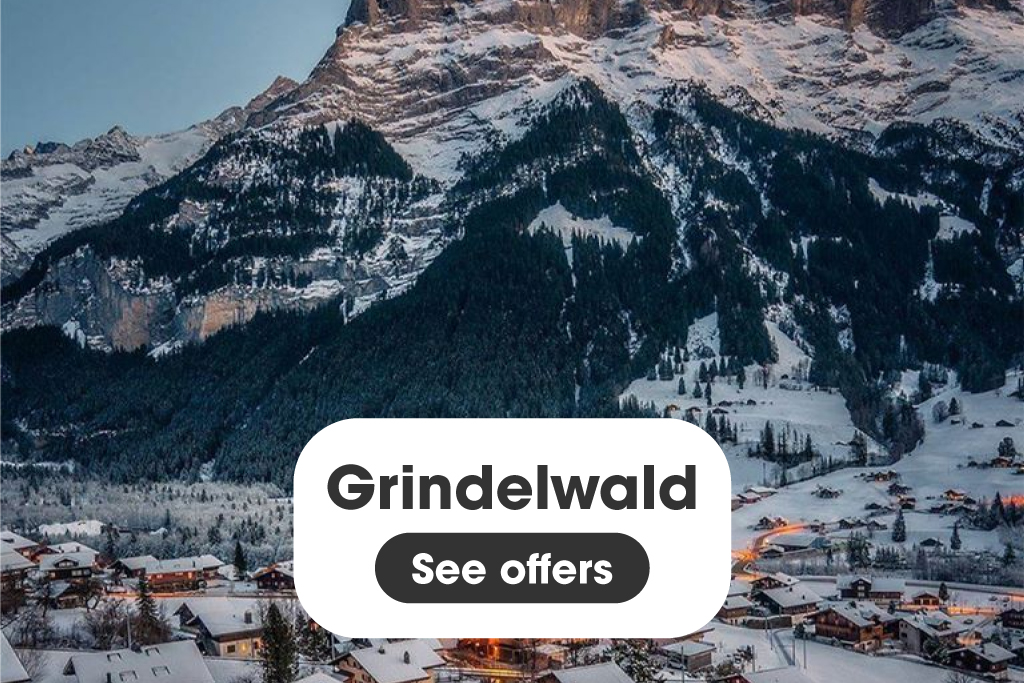 Mürren
Mürren (1,638m) is a traditional mountain village in the highlands of Bern, Switzerland. It's one of the most popular tourist spots in Switzerland, as the town offers a view of the three towering mountains: Eiger, Mönch and Jungfrau.
Enjoy the best views and immerse yourself in a long track adventure. It is the best option if you wish to avoid queues and taking many chair lifts.
Fancy adding more kilometres to your ski pass? On Esquiades.com you can also add access to the entire Jungfrau ski region, which includes both Grindelwald and Mürren. You can add this on Step 2 of our booking process ;)
And there's more! You can also add tickets to Jungfraujoch - "Top of Europe", between Jungfrau and Mönch and at 3,466 metres above sea level. The views from the Sphinx Observatory are breathtaking and it's definitely a must-see.