Andorra la Vella, September 1, 2021.
The ski resort of Ordino Arcalís extends the summer season for another month due to the affluence of visitors that they've had this season. The great attraction of the summer has been the new Solar viewpoint of Tristaina, which has attracted almost 70,000 visitors since it was inaugurated in July and has encouraged them to extend the summer offer until October 12.
The general director of Grandvalira, Juan Ramón Moreno, highlights that "the acceptance of the Tristaina viewpoint has been a success and, due to the good expectations of visitors for September and October, we have decided to extend the summer season until mid October."
The initial ide was to end the summer season on September 12, but they finally decided to keep a series of active services for a few more weeks. The Tristaina gondola will be closed, however the Creussans chairlift will remain open every day from 9 am to 4.15 pm. Also, the Coma road, which has been closed to road traffic from 9 a.m. to 5 p.m. during the summer months to encourage cycling, will reopen. Thus, access to the Solar de Tristaina Viewpoint will be possible through this lift.
On the other hand, the store that is located in La Coma will also remain open to the public and it will be at this point where you can purchase the passes for the Creussans chairlift, since the ticket offices located in L'Hortell will be closed. Another service that will remain open is the Coma restaurant, where you will be able to enjoy some of the best mountain dishes.
Awesome views of the Ordino Valley
The Tristaina viewpoint opened to the public on July 9 and, since then, in less than two months, it has brought almost 70,000 visitors to the ski resort, of which 50,000 went in August, attracted by the magnitude of the project and the awesome panoramic views of the entire glacial cirque of Tristaina and the three lakes, as well as the entire Ordino valley, designated by UNESCO Biosphere Reserve.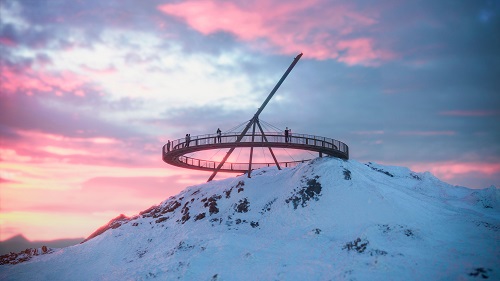 The project, which began to take shape in 2018, as a result of conversations between the president of Grandvalira Resorts, Joan Viladomat, and the engineer Sergi Riba Porras, aimed to create a structure that would allow the maximum number of mountains in the area to be seen and that pays tribute to the meaning of Pico de Arcalís as a solar mountain thanks to its sundial shape.