As you already know, Esquiades.co.uk offers ski package deals including: accommodation, ski lift passes, equipment rental, meal tickets, lessons... However, at the moment we don't include transportation. Therefore, in this article we want to provide useful sources to help you find flights and transfers at the best price possible.
After doing some research, we believe that rather than looking for flights through different airline companies, the easiest and fastest way to do it is via websites that compare fares. This will help you decide on airports, airlines and flight times.
For instance, a great site is www.skyscanner.net where depending on the booking dates, you'll find a selection of all the flights available, the airlines and their corresponding rates.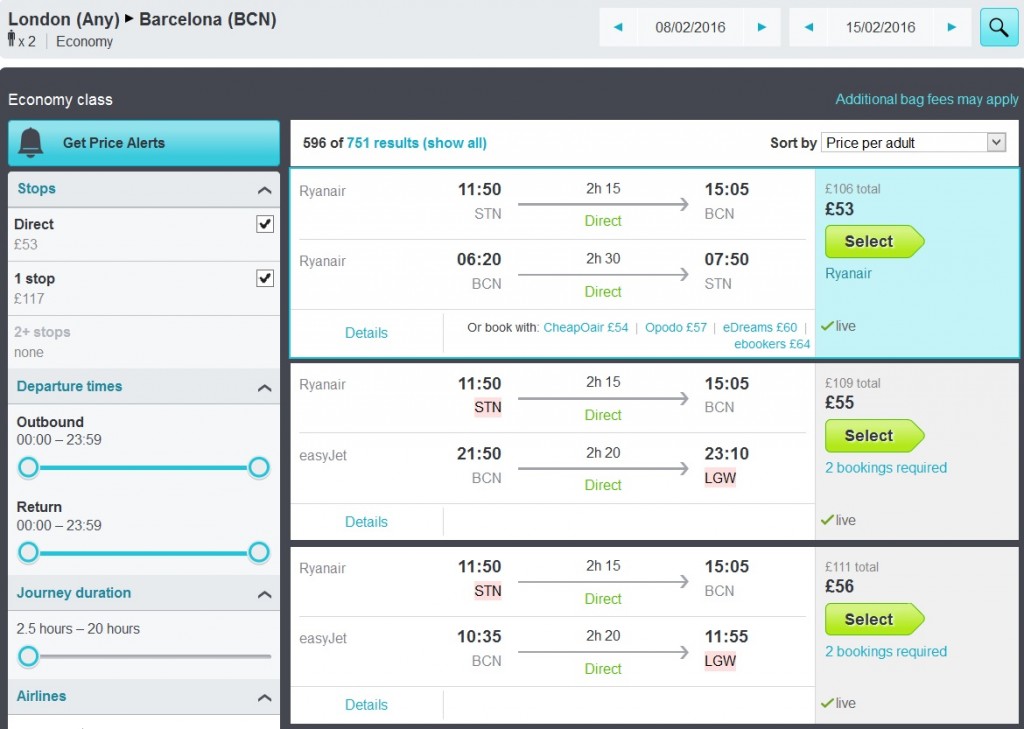 These sites aren't only useful to compare fares but they will also allow you to set an alarm so you know when to book at the cheapest rate available! Another great advantage of this kind of sites is that it will also offer you information on transfers such as: coaches, car rentals, trains... cheap and easy to book.
What Ski Resort are you going to? Want to know the nearest airports?
Andorra
If you are thinking of skiing in Grandvalira or Vallnord then the nearest airports are: Toulouse (France, 186 km/116 miles to Andorra) or Barcelona (202 km/125,5 miles from El Prat to Andorra and 199 km/123,6 miles from Girona Airport to Andorra).
French Alps
In this case, we recommend you to fly into Geneva (170 km/105 miles to Tignes), Lyon (220 km/137 miles to Tignes) or Chambéry (140 km/87 miles to Tignes).
Catalan Pyrenees
For those of you who want to ski in the Port Ainé, Baqueria or La Molina Ski Resorts then the nearest airports would be: Huesca Pirineos Airport (195 km/120 miles to Port Ainé) or Barcelona (from El Prat to PortAiné 246 km/152 miles or from Girona Airport to PortAiné 251 km/155 miles).
Aragonese Pyrenees
If you want to visit the Formigal, Cerler, Panticosa and Astún Ski Resorts then the nearest airports are Huesca Pirineos Airport (106 km/66 miles to Formigal), Lourdes Airport (89 km/55miles to Formigal) or Zaragoza Airport (176 km/ 109 miles to Formigal).
Sierra Nevada
And finally, if you wish to combine skiing with a visit to La Alhambra for example, then this is the ski resort for you. The nearest airport is Granada Airport (60 km/38 miles).
What is great about our website is that once you have your flights and transfer/car hire sorted, once you arrive at the hotel you don't have to worry about anything else as all our package deals include accommodation + ski pass lifts and you can add the following extras to guarantee a carefree ski trip: ski insurance, equipment rental, meal tickets, tuition and more!
BOOK HERE YOUR SKI PACKAGE DEALS