We can say that the ski resort of Grandvalira "continues to soldier on" as the state of the snow is in good condition thanks to these. Although the snow has not been present in recent days, the guns have kept the state of the slopes in Grandvalira .
Currently, the snow depth is between 20 and 50 cm thanks to the cannons, and the ski slopes thanks to the carpets seem machinery Grandvalira. Forecasts indicate that these favorable conditions will remain the same this holiday season.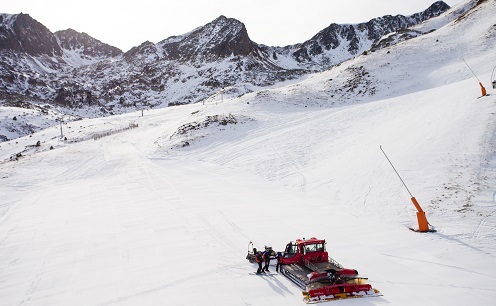 If you have booked one of our Grandvalira ski deals this time, you're in luck! The Andorran resort will be one of the stars of next weekend of December 18 and skiers who visit their domains can enjoy 158 km of pistes. If you are reading well. Weather conditions have nothing to do with Grandvalira.
Want to know some of the activities in Grandvalira this weekend?
Grandvalira offers much more than a drop by its vertiginous slopes or a hot coffee in your new area of ​​services (to be discussed a few lines below). Get your agenda and points all they have prepared this weekend ;-).
- Want to know how long it takes to go down a ski slope? If you go to the Paniquera, in the Soldeu area, you'll find out the time of descent through the stopwatch. That's right! Make sure it is between 10: 30h and 15: 00h.
- Lovers of strong emotions also have their place among the facilities of the ski resort of Andorra. In the ski resorts of Soldeu, El Tarter and Canillo offer activities and adventures in the Tarter also the SnowPark will open with a modified line modules.
- The day does not end when the ski resort closed. The terrace will host a conference Abarset l'Apres-Ski in Grandvalira with musical performances by the hand of Johann Wald on Saturday December 19.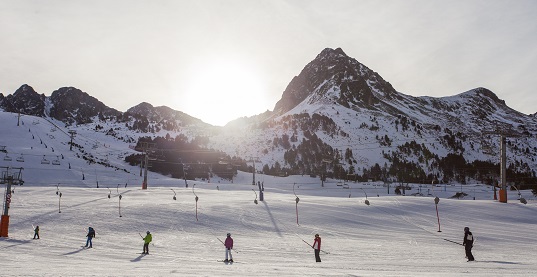 This week has opened the largest building services Pyrenees!
The modern building built in Tarter ski resort represents an investment of approximately EUR 4 million for Grandvalira. The goal? To centralize services to the ski slopes, streamline the flow of customers and give comfort to all skiers who visit these facilities.
The new facility will accommodate more than 4,500 people in a single day. If you're wondering what services are offered, be forewarned:
- New lockers.
- Cafeteria ski storage.
- Customer office.
- New medical center.
- New ski school.
In addition, the cable from the outside has also been restored to enhance its image. In conclusion, we have built a modern, striking and merged with the environment and space integrated with nature.