Two factors have been key to the Grandvalira ski resort has received more than 240,000 skiers this Christmas: the amount of skiable kilometers in relation to other ski resorts and the good condition of its tracks.
To highlight the days before New Year's Eve (28, 29 and December 30) as they have been the wealthiest of all parties. In addition, the Andorran domain has managed to live up to the expectations of skiers with 94% of open lifts to allow greater fluidity in the resort.
Although Grandvalira count with 104 open runs and a total of 165 kilometers of pistes, an enviable figure by other resorts, forecasts indicate that these data will be increased due to snowfall of the first day of the year that have left a thickness between 35 and 65 centimeters of powder snow.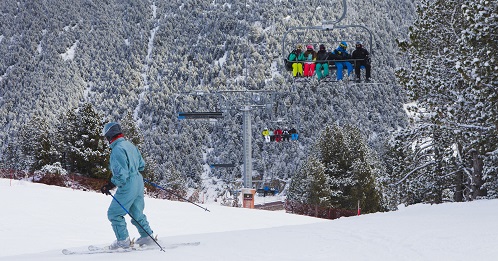 The forecast for the weekend 9 and January 10
The state of the Grandvalira slopes will be stable, and may increase slightly in the ski resort of Andorran Pyrenees. So if we can say, it will be a day characterized by an excellent state of both the snow and the ski lifts, which were beginning to acknowledge the lack of white meteorological phenomenon.
The guns are enabled to take advantage of lowered temperatures and optimum offer a day of skiing. In conclusion, if you are a fan of winter sports and do not have your offer ski in Grandvalira , we recommend you not to miss this great event.