With the arrival of smartphones and tablets, new technologies are definitely a very useful tool for tourists. Tourists have become very used to using mobile applications before, during and after a trip. Indeed, tourism has led to the emergence of thousands of applications linked to the tourism ski resort.
Therefore, and in the context of the International Tourism Fair (FITUR), the State Trading Corporation for the Management of Innovation and Tourism Technologies (SEGITTUR) and the Chamber of Commerce of Spain have all met together for the fourth consecutive year and have prepared a guide of the most representative tourist apps, both nationally and internationally. The mobile application of Esquiades.com appears in the selection, precisely in the section related to active tourism apps and tools that improve the user's experience in practicing sports such as skiing.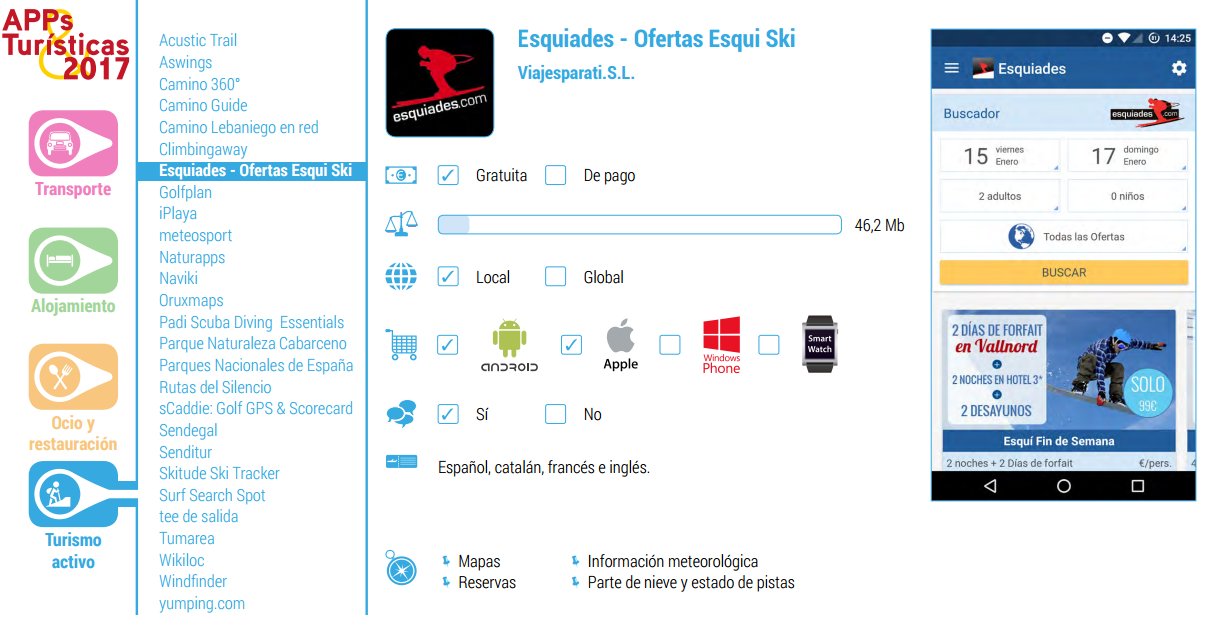 You will find the following description about our app: "Esquiades.com allows you to book your trip to the snow with the best ski deals that all include accommodation + SkiPass". Moreover, we offer other extras such as "ski or snowboard equipment rental and other extas. You will also find the weather section, with updated information about snow conditions and the resorts' ski slopes. "
Our mobile application has already been awarded as best national tourist App on The App Tourism Awards 2017, Esquiades.com feels very grateful and excited to see what else there's to come! We will keep improving our services and tools to make sure our website and applications help our customer's find the best package deals.
Still haven't got our App? Download it NOW!