Despite the fact that there are countries that are confined and the news is not very optimistic, from Esquiades.com we bring you a news: Verbier has already opened!
The Swiss ski resort opened its facilities on October 31st thanks to the snowfalls this fall, which have generated snow thicknesses of more than 30 centimeters at the lower elevations of the resort.
There have been many skiers and snowboarders who have been able to enjoy the spectacular snow that the resort has had and it is expected that in the coming days more lifts and ski areas will be opened in order to be able to ski in the Les 4 Vallées domain.
And are there any restrictions due to Covid-19?
We know that the second wave of Covid-19 in Europe is being very tough, but Verbier is proof that if certain protocols and minimum standards are followed, resorts can open smoothly and guarantee the safety and enjoyment of all skiers and snowboarders .
Specifically in Verbier, some of the measures that have been taken are :
❄ The ski lifts, chair lifts and funiculars will be open and will not reduce the capacity, but the mask will be mandatory during the journey. However, it will not be mandatory during the descent.
❄ You have to maintain social distance whenever necessary, such as in the lines of the ski lifts, public places, etc.
❄ You should wash your hands regularly and avoid shaking hands and physical contact in general.
❄ As for catering, only 4 people will be allowed per table and all restaurants and cafes will close at 10pm. By contrast, pubs and discos will remain closed.
❄ Leisure areas, recreational places and parks will be limited to a maximum of 10 people, with the exception of skateparks, libraries, toy libraries, museums and cinemas that will be closed.
❄ In the Verbier sports centre, a mask will be mandatory and only 10 people can be in each room, although contact sports will also be prohibited (football, basketball, hockey, fitness lessons , swimming pools, showers and changing bedrooms).
❄ Any sporting event, demonstrations and animations organized by the Tourist Office will be prohibited.
❄ Whenever possible, follow-up data must be provided to the authorities, in order to control the contacts you have had and thus facilitate the search for positive cases of Covid-19.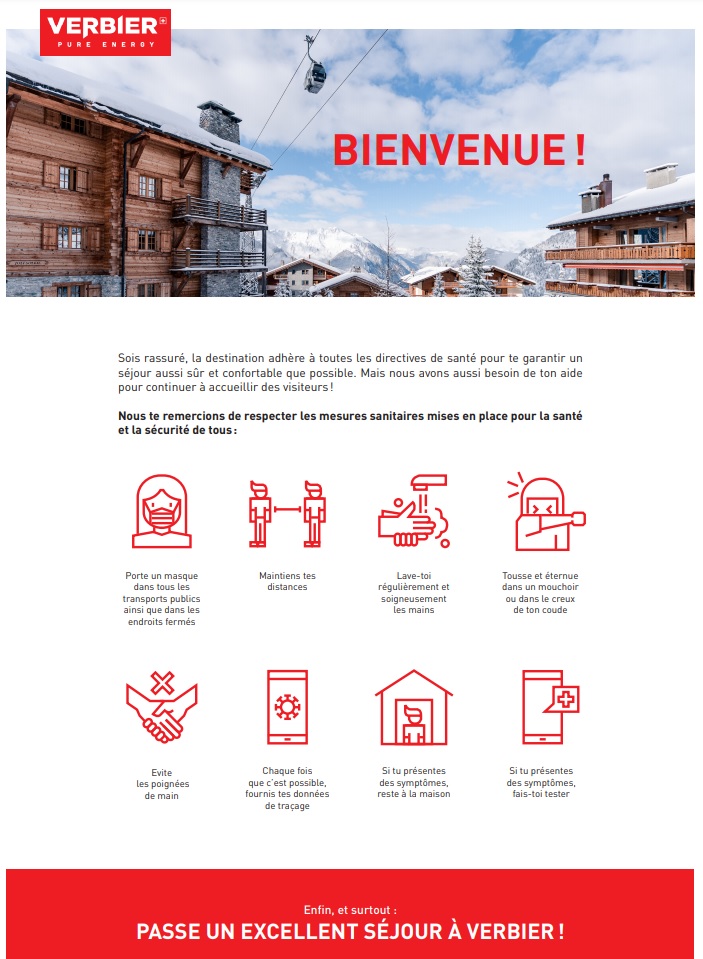 Infographic of the Verbier resort to carry out its opening.


This shows us that, despite the situation we are experiencing, the ski resorts are going to open little by little with the appropriate measures so that we can enjoy our favorite sport .
In addition, we would like to take this moment to remind everyone that ensuring that Covid-19 does not spread is everyone's responsibility . If we all respect the measures and protocols of the ski resorts, we can all enjoy our favorite sport this winter season.
Are you worried about booking and that you cannot travel due to confinement? Do not worry! On Esquiades.com we think about everything, even these types of situations. If you have to cancel your reservation because they have confined where you live or the ski resort, we guarantee cancellation for free. You can check more information about our free cancellation for lockdown here.
Book with Confidence with Esquiades.com
Ski You Soon