Due to a high demand, our team of experts from the product department have been meeting with different transfer companies to offer this service to make it easier and cheaper to plan your ski holiday.
As you may already know, we try our best to offer all-in packages to guarantee a hassle-free trip to the snow. We strongly believe that you should be on holiday as soon as you step foot in the airport which is why we now offer round-trip transfers from Barcelona, Toulouse and other Airports in the North of Spain.
Here are the answers to your questions ;)
How do I add this service to my booking?
Once you have chosen your ski offer, you will then find a selection of extras such as insurance, equipment rental, meal tickets, lessons, etc. It is here where you can also add the transfer service!

I've landed, where do I go?
If you are flying into Barcelona El Prat Airport, the bus stops are at Terminals 1 and 2.
- Terminal 1: Ground floor, from platforms 7 to 12
- Terminal 2:Outside Arrivals T2B, on the right hand side where you'll find the following sign: "Bloc Tecnic"
If you are flying into Toulouse, the bus stops in Toulouse-Blagnac Airport and Gare Matabiau (Train Station).
- Toulouse Airport (31703 Blagnac, Francia) - Arrivals, hall B in front of door B
- Gare Matabiau (68-70 Boulevard Pierre Sémard) - Platform 15
You'll be able to select the times to/from Andorra during the booking process.
A piece of advice for you!
Make sure you give yourselves plenty of time from when you land to when you get to the meeting point to catch the coach to Andorra! It may take longer than expected to collect your luggage from the carousel.
Which is my transfer?
The transfer service is run by a company called Regina and their website is called Andorrabybus. The company offers a mini-bus that will take you to Andorra La Vella Bus Station.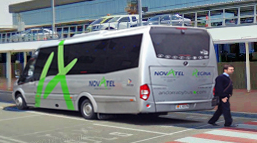 How long is the journey?
Whether you are coming from Barcelona or Toulouse, the journey takes approximately 3h30 mins.
Where does the bus stop in Andorra?
This service ends at the main Bus Station in Andorra La Vella, opposite Mc Donald's
Address: Av. de Tarragona, 42, AD500 Andorra la Vella, Andorra
Phone Nr.:00376 803 789
How do I get to my accommodation?
As you will see on our website, we offer the service to and from Andorra La Vella. However, if you need a lift to your accommodation, we can also arrange that for you! Get in touch with us via Manage My Booking and we will send you a quotation including the service to the nearest stop to your accommodation ;)
What are the terms and conditions?
If you need to cancel or change the dates of your booking with Esquiades.co.uk, please contact us via Manage Your Booking and we'll take care of your query. If you only need to change the transfer time (not date), you can also send us the request and we'll rearrange your journey plan and send you the amended voucher via e-mail.
If you are already travelling and your flight is delayed, we'll send you the company's details together with the confirmation voucher so you can reach them if needed. Please bare in mind that amendments are subject to availability and you should contact them in advance.
All passengers must have their passports/ID as the driver won't allow unidentified travellers on the bus.
Each passenger is allowed 1 piece of luggage (20 kg max. weight) and 1 pair of skis/snowboard gear. Any extra luggage will be charged by the bus driver (€12 per extra unit).
This service won't run on December 25th nor January 1st. Therefore, it won't be possible to book the transfer service to and from Andorra.
Any other questions?
Feel free to call us at 442 036 959 406 or via Manage My Booking. We are here to answer to any of your questions and help you through the booking process!
No more questions? Then what are you waiting for? Book one of our top deals NOW!