As every year, from the Esquiades.com team we show you how the ski season has been in the form of data with a special infographic. All yours!
How many skiers have we taken to the snow this year?
Without a doubt, our favourite time of the year is the winter season - we spend our days looking forward to putting on our skis! And one of the things we are happy to know is that more and more people are trusting us to take them on their ski holiday.
Yes, this season 2022-23 we have accompanied 150,364 skiers.
As many of you may already know, this season has been shorter compared to the previous one (21-22) due to the weather conditions especially in its final stretch. Even so, we are very happy with the data obtained!
We continue to grow! 47.82% of the bookings were made via APP and cell phone
This year we have seen new faces and it has been noticed. Up to 5 million people have entered our website to take a look at our offers and content and plan their ski holiday. In web traffic we grew 16.24% more than in 21-22!
Thanks to the constant improvement of our APP, we have also increased visits by 3.63% over the previous year. Where do you visit us from, web or app?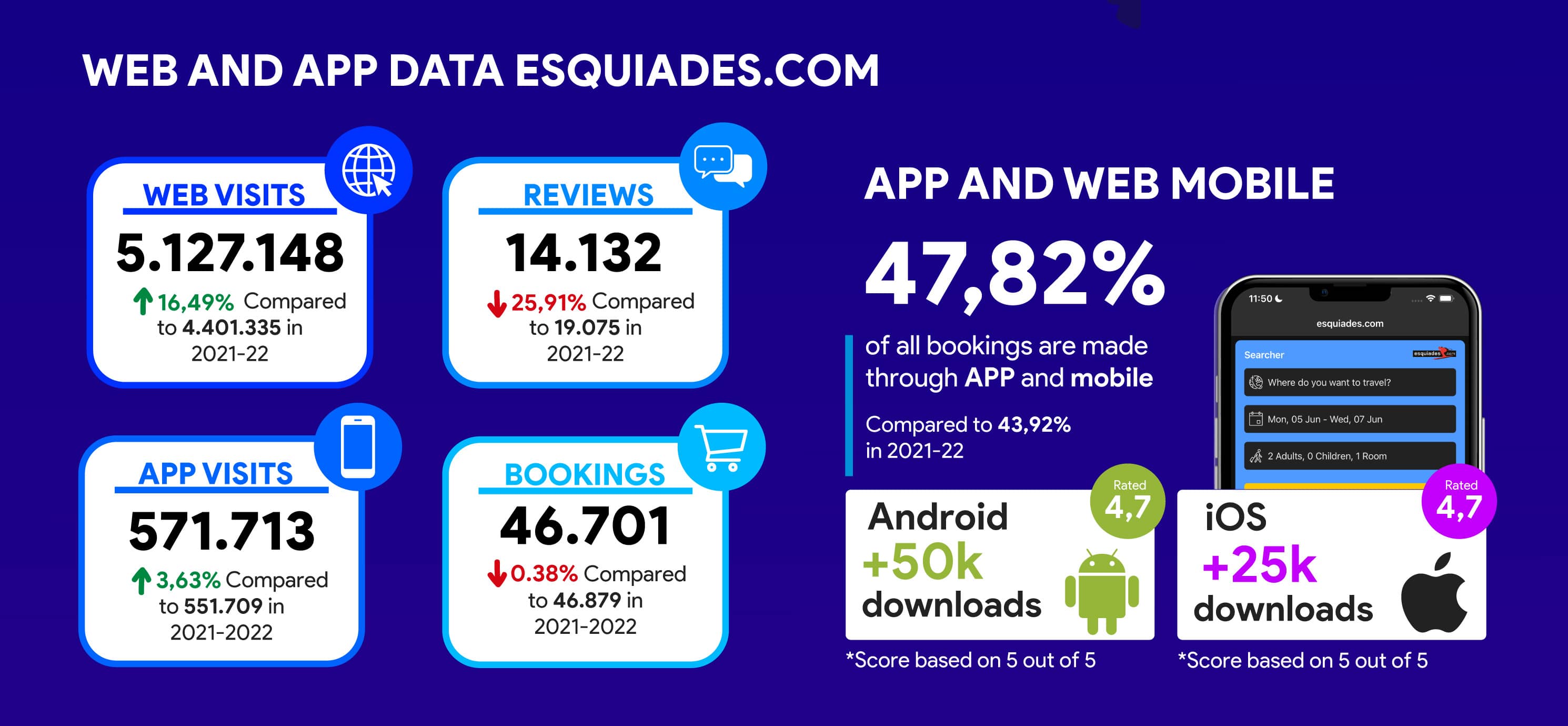 In this screenshot of our infographic, you can also see the number of bookings we have obtained this season and the reviews of our customers after returning from their holiday. Wow! Both data seem to have suffered a small drop... But not everything is so "simple", if you keep reading, we will explain exactly what has happened ;)
New stations added and ratings!
The same illusion we have to release a pair of shoes, a shovel, or a pair of trousers is shared in... RELEASING SKI RIDES available for all of you!
That's why we work hard to bring you new ski destinations every season. This 2022-23 we've added up to 5 new resorts (and the 23-24 season we'll have LOTS more).
Also, on our website you can find the resorts rated by skier customers who have visited them. This will help you decide your next holiday with first hand information from people like you ;)

What are our customers like? We describe them to you:
Our community is super important, they help us to improve our services and to know better all your needs. Thanks to them, we can offer ski holiday packages or mountain hotels adapted to all kind of profiles.
You will surely see yourself reflected in one of them!
Most of them travel as a family (34%), as a couple (25%) and with friends (25%). They are usually short holidays between 2-3 nights and book about 33 days in advance the next holiday. Although we have a lot of complements on the web, the ones that triumph over the others are: ski insurance (60.96% of the customers book it) and equipment rental (44.7% of them).
Did you know that you can also choose the option of booking only the hotel? 9.19% of bookings are only for accommodation in ski destinations but without the ski pass included. There are skiers who prefer this flexibility, or new users who simply want to see the snow or a mountain holiday!
This 2022-23 the whole world has noticed a rise in the standard of living. We can also see this in ski deals, with a significant increase in the price per booking. But this is also due to the fact that we are offering more and more international destinations to customers from all over the world and also more and more extras in the booking.
The international market is becoming stronger
"Go hard or go home" is something we say a lot in the office. The quick translation would be "Go hard or go home". And what does that mean? Well, we like to think big and make it happen. For that reason we are very excited about our project of internationalization of Esquiades.com.
For some time now you can find our website in 7 languages: Spanish, Catalan, English, French, Portuguese, German and Italian. In addition, we are available 24 hours a day 365 days a year to give you a service of 10.
Did you know these data? We have had 877,661 web visits outside Spain! A 24.43% more than in 21-22 and a total of 2,952 bookings (37.62% more).
As a novelty, we have launched a new account on Instagram @esquiades_en. With quality content in English only :)
Did you know that we are the largest community of skiers in Spain? Our social networks and newsletter prove it!
If you still don't follow us on our social networks... You're about to do it! We have a very nice and active community of snow lovers. We love to have direct contact and through social networks it's possible!
There we share with all of you where it's snowing, we do live updates, we show you the state of the slopes, we inform you about activities and places to visit, we tell you the weather forecast for the weekend and much more!
Yes, we also publish a lot of DRAWS and announce exclusive offers.
All these contents worked with care have caused a furor this year, because it is incredible the strong increase we have experienced in all of them, especially in Instagram and Tik Tok. Globally, in social networks this year we have grown by 25.02% compared to last season. Just successes!
Every two weeks, during the ski season, we send out our newsletter. A small mailing with offers, special prices, valuable information, sweepstakes... There are up to 182,288 skiers subscribed!
Don't miss the full infographic
Thanks for being there one more year and joining us in this adventure! We share with you the complete infographic so you don't miss any detail and a link so you can access the offers for the 2023-24 season.