If you haven't signed up to receive our newsletters, then you've missed out on our fun crossword puzzle!
For those of you who have joined our mailing list and have taken some time to read our latest newsletter and have a go at the crossword puzzle, thank you!
Some of the questions were a bit tricky which is why we made sure to plant clues all over our homepage ;)
Here are the answers to the crossword:
ACROSS:
1. What's the name of our exclusive service we offer you to cover your ski holiday if you are booking to ski either at the beginning or end of the ski season?
4. What's our number 1 ski destination?
6. Name an extra you can include in your ski package with Esquiades.com
10. What percentage of customers would book again?

DOWN:
2. What percentage do you need to pay to confirm your booking?
3. Name a Ski Resort we offer in the South of Spain
5. Name a Ski Resort we offer in France
7. Where do you collect your ski pass?
8. How many languages do we speak?
9. What is always included in the price?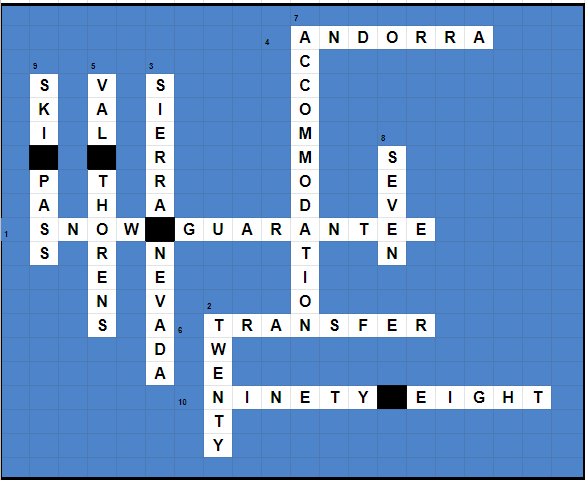 Do you want to receive our newsletters? click on the image below and you'll be the first to have access
to ski holidays, special discounts, fun games and giveaways!