Uncorking champagne, shouts of euphoria and a well deserved celebration. Sure the weekend was something like what I have for members of the ski resort of Cerler.
Last weekend the ceremony of the World Ski Awards, where awards are given out to the best ski resorts and snow cars was held. What it is still some Oscars, but dressed in white suit.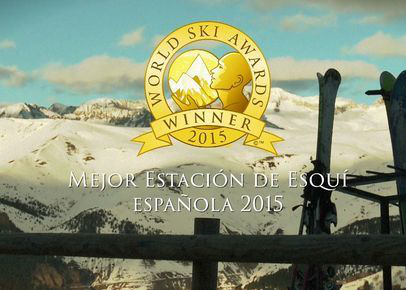 Cerler is in luck because a few days to open its doors has received, for the second consecutive year, the award for the best ski resorts in Spain. Of course, the chocolate tastes much better if you know you are skiers themselves are responsible to decide the resort worthy of this award.
In addition, this destination is also positioned Snow internationally has since entered the ranking of the top 24 ski resorts in the world. This milestone will be long remembered.
All Esquiades.com team will lead to exactly the saying "do not leave for tomorrow what you can do today" and we are preparing all our material snow to go to the snow and boast of being one of 24 best ski resorts in the world. If you want my advice, do not let pass the time and now uses the best ski deals in Cerler entire network on our website.
Until then, we do salivating over a photograph of the webcams in Cerler our website updated at the time.

Grandvalira will not want to miss this event and is the best ski resort in Andorra
If we told you Cerler has been the big winner of Spain, it is the resort Grandvalira star in the Andorran border. The awards, which recognize the quality of services and a range of modern and innovative tourism skiing, have awarded this ski resort as the best of Andorra.
No wonder nothing to Grandvalira, one of the most popular destinations in southern Europe snow, get this award. This Saturday, November 28, scheduled for the opening of the ski day, we can see all the new features that have been prepared for the snow season 2015 / 2016. But for the moment we must be content with this news.