Our favourite week of the year is back! Esquiades.com's White Week!
From Monday 21 to Monday 28 November you can book our ski deals: hotel + ski pass at an incredible price.
In this post we are going to show you some of our top ski holidays, but not all of them so make sure to stay tuned to our ski deals website as we'll be adding offers every day!!
Our product department team has been (and continues) working very hard to offer you super exclusive discounts at your favourite resorts and hotels.
Ok, where do we start?
White Week Ski Deals in Andorra
We know that Andorra is one of your favourite ski destinations and, as you already know us well, it is our Top destination. That is why here we can offer you some mega exclusive discounts that you will not find in any other snow travel portal.

If you plan to make your debut this winter at the Pal-Arinsal ski resort , you can book your hotel + Ski Pass pack at various hotels and apartments located in La Massana and Arinsal. You can find discounts of up to 20%!

As good snow lovers, we know exactly where you like to stay if you go skiing at the Grandvalira ski resort .
During our White Week you can book your ski holiday to ski in Soldeu-El Tarter , El Canillo and, of course, in Pas de la Casa.

If you prefer to stay in Andorra La Vella or in Escaldes , we also have great hotels with a spa with discounts of up to 30%.
➡ Exclusive White Week Andorra Discounts

Are you looking for a hotel that's a short walk to the slopes of El Tarter? The Vista Tarter Apartments is your perfect accommodation for a holiday in the snow with family and friends. You couldn't be closer to the slopes!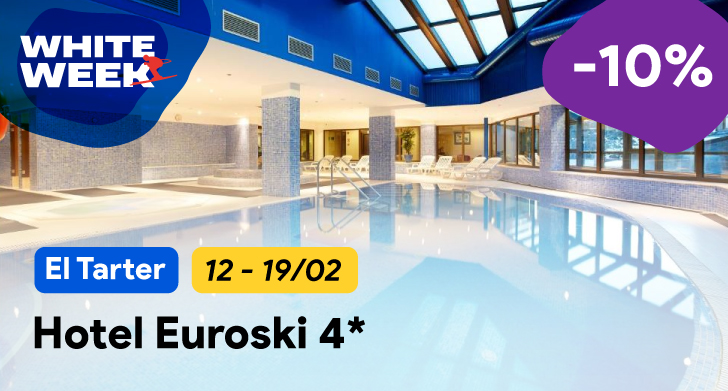 The Hotel Euroski 4* offers spectacular views of the El Tarter ski area, in Grandvalira. In addition, it is the perfect accommodation for family skiing.
White Week offers in the Catalan Pyrenees
If you don't know where to go skiing with the family this winter, the Boí Taüll resort will surely meet your expectations. Here you will find something for you and the whole family.
On Esquiades.com we have discounts in our accommodations located in Pla de la Ermita which are a few kilometers from the station and from where a shuttle leaves so you don't have to worry about where to park when you arrive at the station. What type of accommodation are you looking for? You will find our White Week discount offers in hotels and apartments. You decide where you prefer to stay ;)
➡ Exclusive Discounts White Week Boí Taüll
Stay at the Aparthotel Siente Boí & Spa 4* and enjoy all the comforts of a hotel. Our weekend packs include a stay in an apartment and 2 days of ski pass.
➡ Exclusive Discounts White Week La Molina
Your eyes don't deceive you! Book our ski deal at the Hotel Collada 4* with Ski Pass for La Molina and enjoy this 30% discount.
White Week offers in Sierra Nevada
We know that the Sierra Nevada ski resort is another of the many that you like to visit during the winter season and we are not surprised. You are 40 minutes from Granada and the snow conditions at the resort are great from the beginning to the end of the season. If you are one of those who prefers to go skiing in March, you can book your ski holiday with complete peace of mind, since the snow is guaranteed.
Most of the accommodations that you will find on Esquiades.com are a few meters from the slopes, both on foot and by car. Did you know that depending on where you are staying, you can take a chairlift that brings you closer to Plaza Pradollano? Take a look at our hotels and apartments with these special discounts. You will find discounts of up to 10%.
➡ Exclusive White Week Sierra Nevada Discounts
Take advantage of our White Week discounts and book your stay at the Hotel Ziryab 3* , directly on the slopes and with spectacular views of the Sierra Nevada ski resort.
White Week offers in the French Pyrenees
If you want to go skiing in the French Pyrenees , we have discounts at the resorts of Luz Ardiden , Grand Tourmalet and Cauterets. Here you can book your trip to the snow and stay at Residence Val de Roland with a 10% discount for any date of the 2022/2023 season.
If you plan to visit the Saint Lary ski resort, our offers already include discounts of between 20% and 30% and if you book your stay at Résidence Odalys Soleil d'Aure ;)
If you prefer to visit the Font Romeu ski resort , we can offer you a pack with accommodation at the Odalys Mille Soleil Apartments. Depending on the dates of the trip you can enjoy a discount of up to 40% . It is the favorite accommodation in Font Romeu for many of our snow experts.
Did you know that we visit the resorts and accommodations that we offer on Esquiades.com?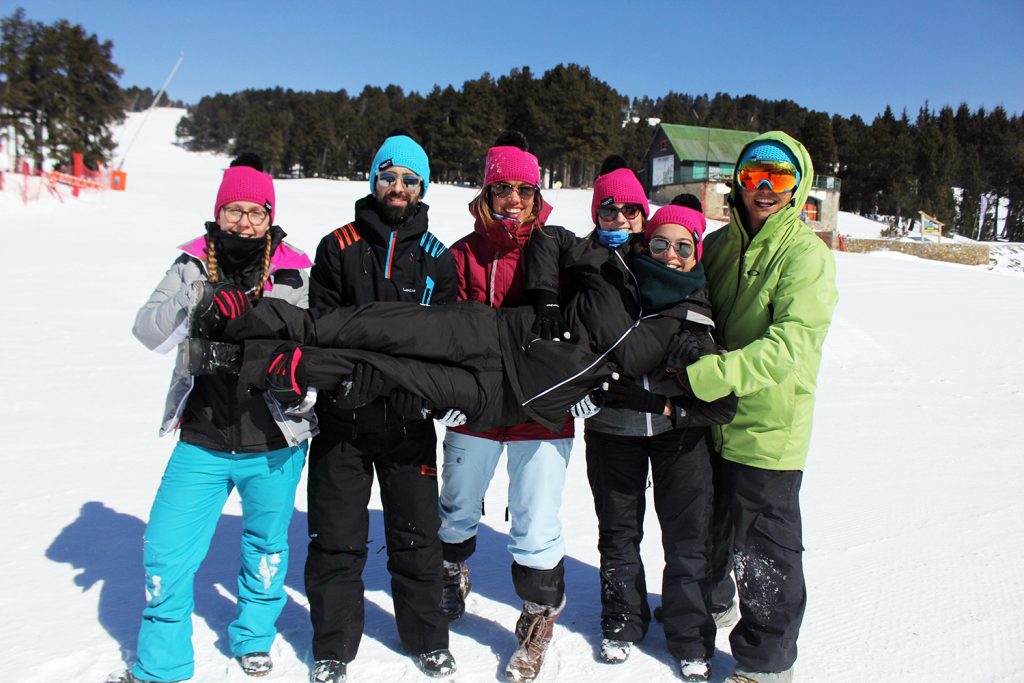 Our snow experts visited Font Romeu and stayed at Odalys Mille Soleil in March 2018.
White Week Offers in the French Alps
If you want to go skiing in Tignes or Alpe d'Huez, so you can enjoy our exclusive White Week discounts, you have to book one of the Odalys accommodations ! They offer us super deals.
➡ Exclusive White Week Discounts in Tignes
We recommend skiing in Tignes and staying at Résidence Odalys Le Hameau du Borsat. If you stay for a week from Saturday to Saturday just before Christmas, it costs €524 per person (and that includes a 6-Day Ski Pass!!!).
➡ Exclusive White Week Discounts in Alpe d'Huez
February is the star month of the ski season, especially if you go skiing in the last 2 weeks. That is why we recommend you go at the beginning of February, specifically from April 2 to 0January 21 , ski in Alpe d'Huez (one of the top resorts for families in the French Alps) and stay at the Residence Odalys Le Crystal Blanc.
I'm sure you're wondering...

Are the White Week discounts only valid for travel on certain dates of the ski season?

You already know that we are always looking to offer you maximum flexibility. During Esquiades.com's White Week you can book your trip to the snow to travel on any date of the ski season.
Do you have to reserve a minimum number of nights or days for the ski pass?

You can reserve the number of nights and Ski Pass days that best suits you. The decision is in your hands!
When is the Black Friday discount applied in the booking process?

The discount is already applied, so the price you quote per person already includes our exclusive discount.
Have we left out a station on your favorites list? Do not worry because during the week we will be launching more special offers in other ski resorts that do not appear here, so be very attentive on our website and social networks, since we will be advancing small advances so you do not miss anything.
Are you not subscribed to our newsletter ? Well, this is the moment to do it, since during the next week we will send an email with a lot of offers and even surprises. You may be the lucky one to get a great gift. Who knows?
Are you joining our week of Black Friday ski deals?